Thynne + Macartney, an independent, commercial law firm based in Queensland, is leading the way with expertise and specialisation with 12 lawyers ranked as The Best Lawyers in Australia across 16 categories of law.
Peter Jolly, Chairman of Partners, explained that more than half of Thynne + Macartney's partners have been recognised in the 2019 Edition of The Best Lawyers. The firm has six lawyers who hold specialist accreditation in their areas of expertise which is unique for a boutique firm in Queensland. The accredited practice areas are commercial, property, succession, and family law.
"Receiving this recognition demonstrates that Thynne + Macartney offers a significant depth of specialisation to our clients, and the best legal minds practising in Queensland " said Mr Jolly.
Inclusion in the Best Lawyers Australia is based entirely on peer review which is designed to capture, as accurately as possible, the consensus opinion of leading lawyers about the professional abilities of their colleagues within the same geographical area and legal practice area.
Thynne + Macartney is celebrating 125 years practising in Queensland this year. It is a distinctive milestone for the firm which is Brisbane's oldest law firm that is still trading under the original name over 125 years after they began.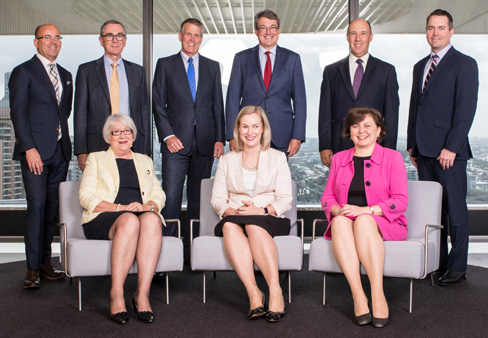 Pictured are the lawyers listed by Best Lawyers Australia (L to R, back row): Cameron Solley, Partner – insurance law; Peter Kenny, Partner – agriculture and rural affairs; John Moore, Partner – insurance law, and professional malpractice litigation; Peter Jolly, Chairman of Partners – commercial law and corporate law; Michael Fisher, Partner – insurance, shipping & maritime law, and transportation law; Tim Quirk, Partner, land use and zoning law, and planning and environment law. (Front row L to R) Margaret McNamara, Partner – trusts and estates; Karen Gaston, Partner – trusts and estates, and wealth management / succession planning practice; and Nichola Di Muzio, Special Counsel – family law.
Not pictured: Aaron Webb, Partner – real property law; Marc Maskell, Partner – alternative dispute resolution, insolvency and reorganization law, and litigation; and Matthew Hockaday, Partner – insurance law, shipping & maritime law, and transportation law, and Sue Maxwell, Partner – commercial law.
This information is intended to provide a general summary only and should not be relied on as a substitute for legal advice.