Engaging a new employee is a stressful and often expensive exercise.  It is essential that employers are clear on what they are looking to achieve in filling the role before engaging an applicant.
The process of engaging an employee may be summarised as follows: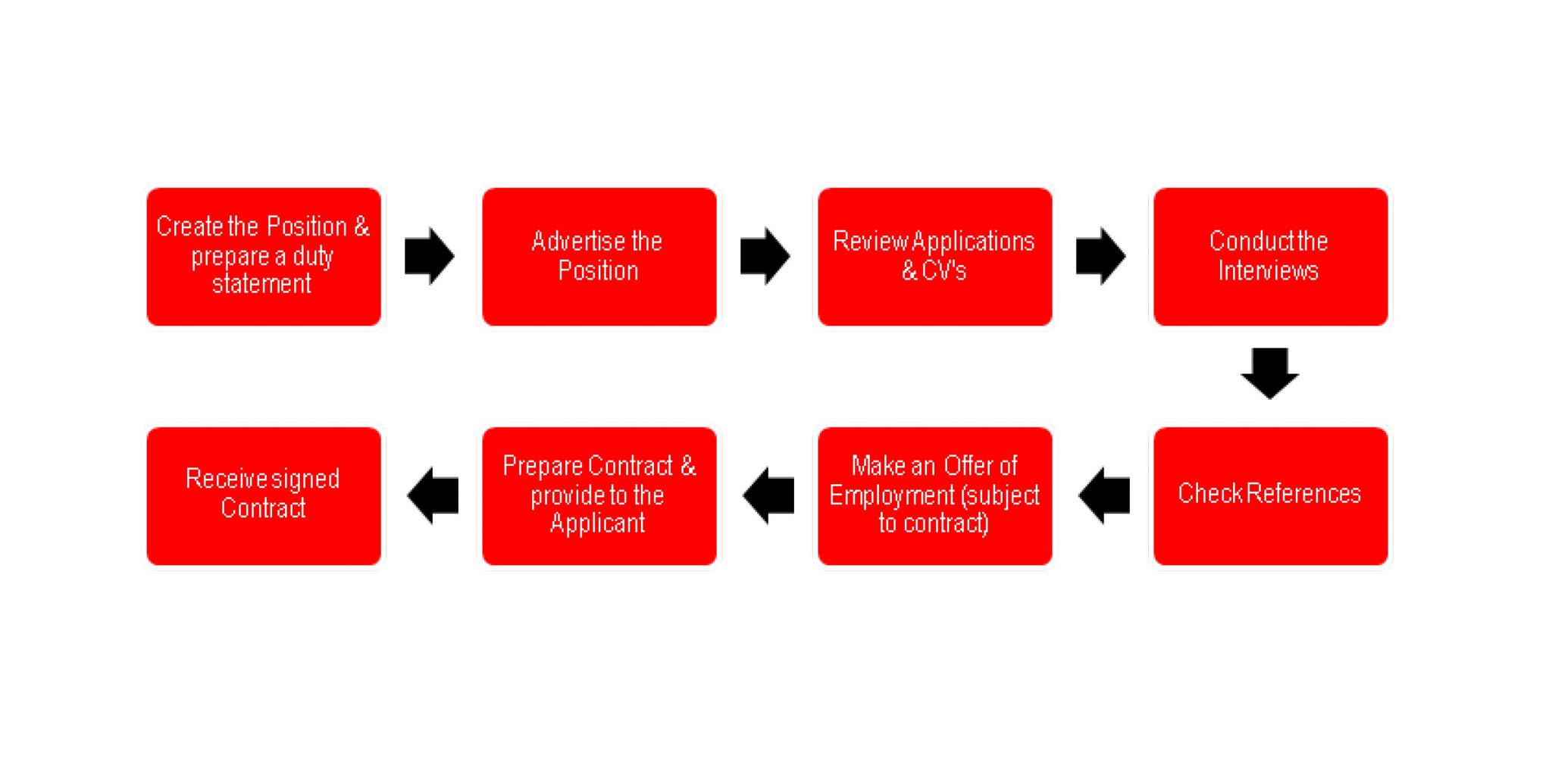 There are do's and don'ts during the engagement process.  Here are ten legal issues that employers should remember:
1.   Do be aware that internet/intranet and noticeboards are published advertisements, and statements made in them should not be treated casually.
2.  Employers must be careful to ensure they do not fall foul of anti-discrimination laws during the engagement process.  Don't include in an advertisement any unnecessary requirements or irrelevant characteristics which are unnecessary for the role.  Doing so leaves room for discrimination claims.  Don't use gender specific terms such as "salesman" or impose requirements concerning age, race, religious belief, marital status, sexual preference, and pregnancy.
3.  Don't make promises you can't keep, or include in the advertisement of a role or when interviewing details of the job which may change.   Don't act in a way which may mislead or deceive a candidate as to matters such as the availability of work, the nature of the work and the terms and conditions of work. Employees have made successful claims against employers who have induced employees to leave other positions with unjustifiable promises about the benefits of the new role.
The Australian Consumer Law contains provisions specifically directed to employment arrangements.  Section 31 of the ACL prohibits an employer from misleading a job-seeker as to the availability, nature, terms or conditions of employment or any other matter relating to the employment.  Such conduct is also a criminal offence under section 153 of the ACL.  These provisions apply only to pre-employment conduct.
The Federal Magistrates Court ordered an employer to pay an employee in excess of $20,000 in Trade Practices Act damages and other entitlements in the decision of Morton v Interpro Australia Pty Ltd & Anor [2009].  Federal Magistrate Burchardt held that Interpro Australia Pty Ltd (Interpro) had breached section 53B of the Trade Practices Act (now Section 31 of the ACL) by inducing Mr Morton to accept the position offered and move from England to Australia on the promise of a guaranteed bonus in the second year of employment.  Interpro subsequently cancelled the bonus and replaced it with a less attractive structure.
Magistrate Burchardt said [at 96]:
"…to tell a prospective employee based in another land that a particular pay outcome will be obtained in the second year of his employment (albeit if he performs well) and then simply not to provide it because you purport to unilaterally remove that benefit, is conduct that can properly be described as misleading and deceptive…"
4.  Do only ask relevant questions during the interview and accurately describe the role. Questions on matters such as age, race, religious belief, marital status, sexual preference, and pregnancy should not be asked.  Whether or not a response to such questioning is relied upon in filling a role, the questions raise issues of discrimination.
In the case of Hooper & Ors v Virgin Blue (2005),  former Ansett hostesses applied for positions with Virgin Blue, were questioned on their age and required to sing and dance during the interview process.  Only one applicant over the age of 35 was successful from over 750 applicants.  The Anti-Discrimination Tribunal, Queensland, noted that having young and inexperienced assessors deciding whether applicants had the "Virgin Flair" left it open to them to favour people of similar age and life experience as themselves.  Member Savage found that the evidence and the inadequacies in the recruitment process were compelling evidence that Virgin had discriminated against the applicants on the basis of age.
5.  Do obtain permission from candidates to contact referees. Do give candidates an opportunity to comment on any referee bias.
6.  Do ensure information is kept confidential.
7.  Do ensure the selection criteria are objective and applied fairly.
8.  Do make it clear that any verbal offer made is subject to the employee signing a letter of offer or contract.
9.  Do ensure the letter of offer of employment or contract is signed setting out the terms of the engagement including at least the minimum prudent requirements such as a termination clause (this will be the subject of a future article).
10.  Do ensure that the employee is engaged on terms that meet the minimum standards set by the National Employment Standards (NES), and any applicable award or industrial agreement which cannot be reduced by contract.
This above highlights how essential it is that employers are frank with candidates on the nature, terms or conditions of employment and do not make promises which are subsequently not kept.
This information is intended to provide a general summary only and should not be relied on as a substitute for legal advice.