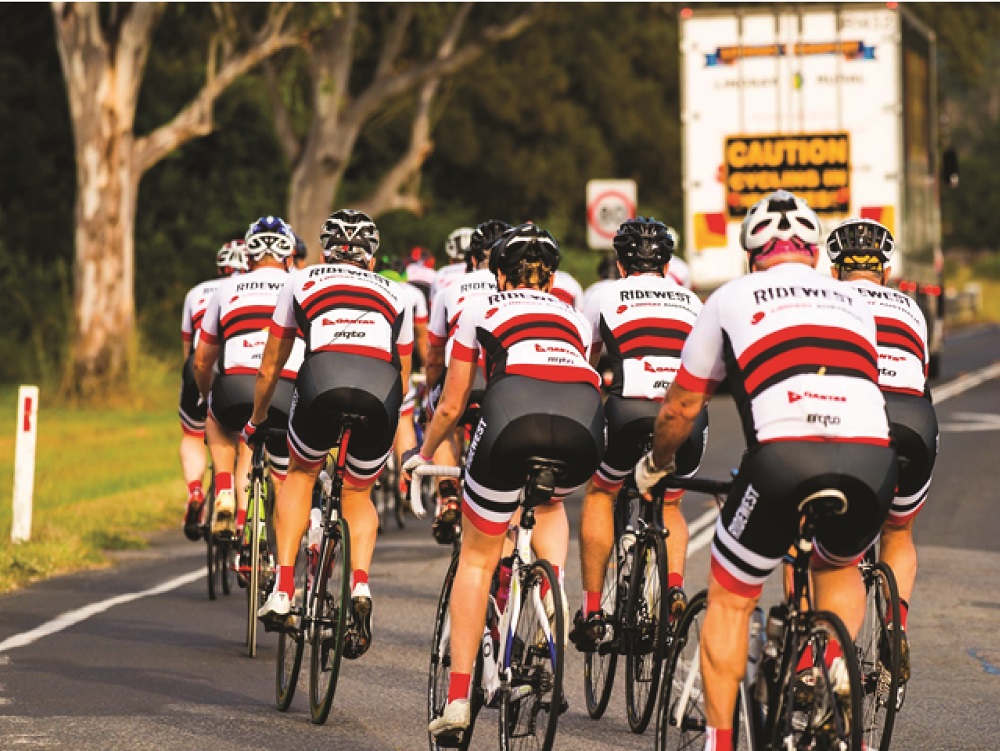 Mark Winn and Hannah Byrne complete the final leg of the 1,237km RideWest challenge today. It is also the longest leg of the cycle being 240km from Blackall to Longreach.
We have had another update from the road from Hannah:
Day 5 is done and dusted and it was a long 183kms from Mitchell to Augathella.
In an effort to raise some extra funds for RFDS we ran a Calcutta last night for the first flat tyre. The pre ride tyre check was closely monitored this morning to ensure there was no deliberate sabotage!!
Perfect conditions today excluding some early patches of wind.
After some physio in Roma and some heavy strapping to my shoulder I was FINALLY able to get back on the bike today albeit only for 70kms. I've never been more excited to get on my bike! I'm  only going to be able to ride patches of 70kms at most but something is better than nothing.
It is clear that the riders are getting tired as it took one the riders a while to realise that he was starting the second session without his helmet!
We delivered two new bikes to the kids at the Augathella state school today. One was going to general school use and the other was being used as a raffle to raise funds for the school camp to the coast. Some of these kids haven't ever had the opportunity to go to the coast.
As we were riding today, we heard the dog sirens going off to help prevent the wild dogs from getting through the fence and to the sheep. It's easy to forget how many elements that farmers and graziers are up against until you get to see it first hand.
This is quite quickly becoming the experience of a lifetime for me. It is not only physically hard, it is emotionally hard.
We have two big days ahead of us but you can feel the anticipation amongst the group. We are close!
Too see Hannah's interview about RideWest with local paper, Longreach Plus More, please click here.
To see photos of Day 5 – Mitchell to Augathella, head over the RideWest website.
To donate to Mark and Hannah's fundraising efforts, please click here.
This information is intended to provide a general summary only and should not be relied on as a substitute for legal advice.