Thynne + Macartney has won Queensland Community Foundation's (QCF) 2018  in the category of small and medium enterprises (SME) for its charitable support that has impacted on the local community.
It is the first time a legal firm has won the prestigious award in the eight years of the awards' running.
Michael Fisher, Partner of Thynne + Macartney was presented with the award by businessman and philanthropist, Anthony Pratt at a gala lunch held at Brisbane's City Hall on Friday 15th June 2018.
Thynne + Macartney was recognised for its partnership with the Gallipoli Medical Research Foundation (GMRF). Mr Fisher explained that the Queensland-based law firm identified synergies with the Foundation back in 2014 whose support involves financial donations in addition to undertaking pro bono work. The values of GMRF and Thynne + Macartney are aligned and this synergy provides an opportunity for the firm to give back to the community.
"We are very humble to accept this award for supporting the Foundation's commitment to the veteran community. We chose to partner with GMRF for a few reasons, not least of all as one of our founders, Andrew Thynne, was Chairman of the Recruiting Committee in Brisbane during World War I and he played an instrumental role in the beginnings of Anzac Day in Queensland", said Mr Fisher.
Mr Fisher noted that Thynne + Macartney continued in their tradition of supporting veterans by helping the GMRF progress its ground breaking medical research in complicated areas, such as post-traumatic stress disorder (PTSD), and the potential to benefit a very wide cross-section of the community.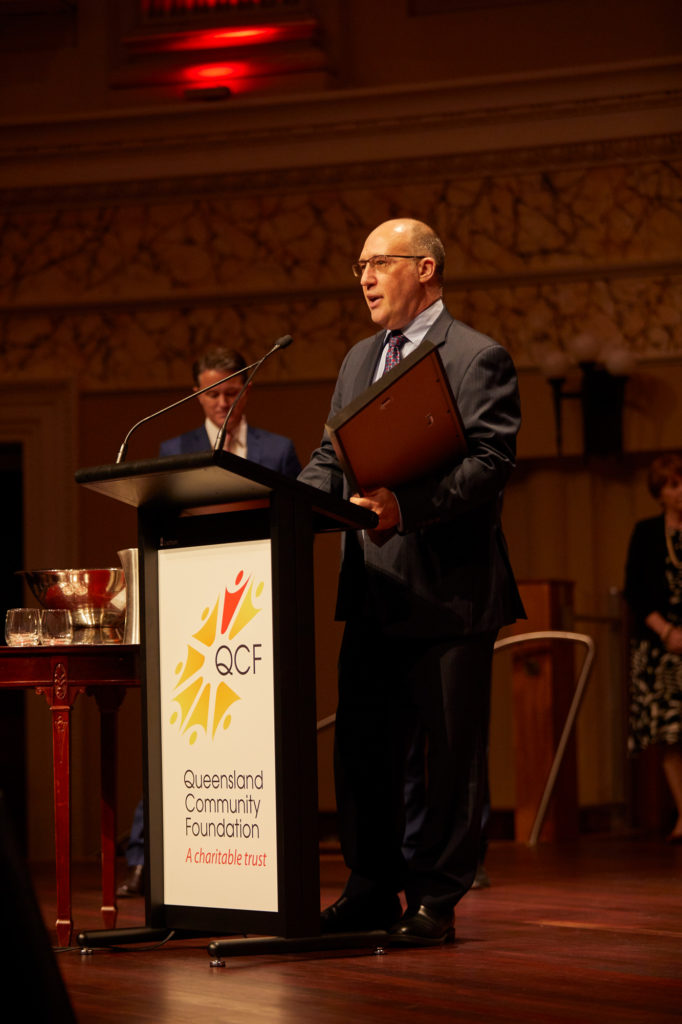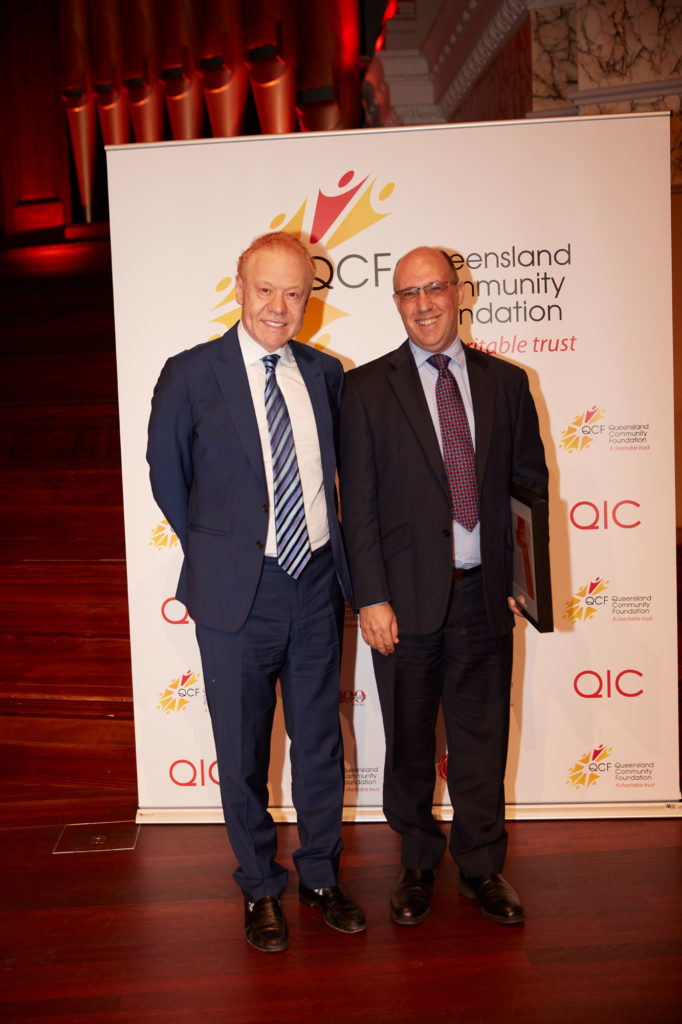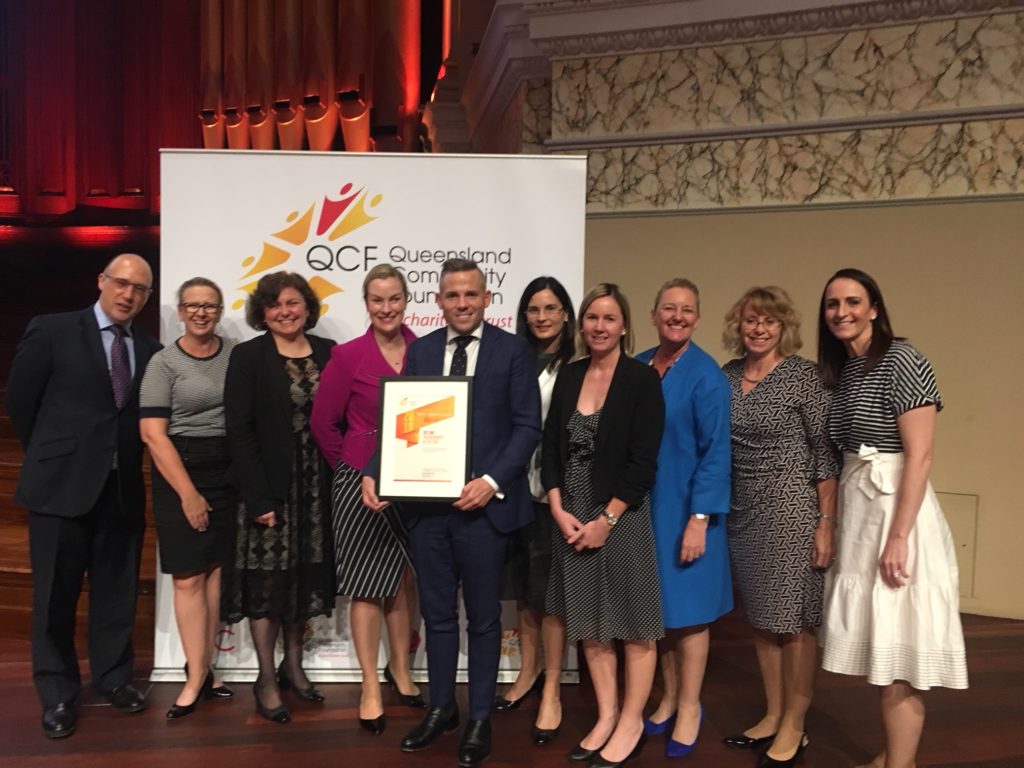 Above left: Michael Fisher, Partner, Thynne + Macartney.  Above: Anthony Pratt and Michael Fisher. Group photo left to right: Michael Fisher; Miriam Dwyer, CEO, GMRF; Nichola Di Muzio, Special Counsel, Thynne + Macartney; Karen Gaston, Partner, Thynne + Macartney; Ashley Lamb, General Manager, Thynne + Macartney; Sandra Camilleri, Senior Associate, Thynne + Macartney; Ashleigh Poole, Special Counsel, Thynne + Macartney; Sharon Wood, Partnerships & Development Manager, GMRF; Dr Suzanne Elliott, Clinical Trial Unit Manager, GMRF; and Kieran Naylor, HR & Office Manager, Thynne + Macartney.
"The common link with Thynne + Macartney and the Gallipoli Medical Research Foundation is that we both try to help people find more freedom, peace of mind and a better sense of control whether it's around quality of life and health issues, or their personal and business life", said Mr Fisher.
The Philanthropist of the Year Award is an annual event coinciding with QCF's Philanthropy Week. QCF is Queensland's largest charitable trust that provides an income stream to charities which need funds to support them to improve their underlying core business activities.
Nominations for the 2018 awards which feature five categories of corporate, SME, community, emerging education and higher education were received from a total of 53 individuals and organisations. The awards ceremony was attended by over 640 guests.
GMRF relies on the support of passionate individuals, local community groups and organisations to continue to progress innovative and life-changing medical research, and works to alleviate the burden of disease that impacts Australia's Veteran community. A particular priority is liver cancer research and physical co-morbidities associated with PTSD.
Queensland-based, commercial law firm Thynne + Macartney is celebrating 125 years practising this year. It is a unique milestone for Brisbane's oldest law firm that is still trading under its original name since 1893.
This information is intended to provide a general summary only and should not be relied on as a substitute for legal advice.
+61 7 3231 8857

Explore similar topics