What has kept you at SunnyKids for your entire career?
"At the time I started, it was very unusual to have student placements in refuges. There wasn't a lot of interaction with clients but when I walked through the gates to SunnyKids, it became my passion within moments'" said Kathleen, "Even though my intention was always to work in child protection, I felt that I would be too emotional for this type of work but instead I found it drove my advocacy and only made my passion for social issues stronger."
Kathleen recalls her breakthrough moment came from frustration when a seemingly simple issue could not be fixed. She realised the solution could be created by the SunnyKids team and community.
"It is the freedom of the SunnyKids platform to be creative and not bound by frustrations of the sector that revealed the solution," said Kathleen, "The paradigm shift changed everything for me, from the way I thought, to the way I practised, and now manage the organisation."
"The SunnyKids practice framework with the Virtual Village was developed from that space and it just evolved," she said, "Our unique domestic violence service puts children at the centre so that everything we do is about breaking the cycle, rather than only dealing with the presenting issues. It is strategic and longitudinal. I can't leave because I haven't seen all of the outcomes yet, and there are other changes I want to see in my lifetime."
What has changed in the 11 years you have been with SunnyKids?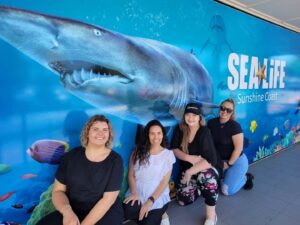 Even though SunnyKids focuses heavily on children, the charity does not receive funding for the work with children, only for work undertaken with adults.
All funding for the SunnyKids children-focused programs, such as the Virtual Village, is from the community.
"We now report on the number of children we support in the refuge which we didn't do 11 years ago but we don't receive additional funding or resources from the government for that support to families. The funding we receive is the same as 11 years ago when SunnyKids only reported on work with parents, and primarily mothers," Kathleen told us.
SunnyKids has two programs for which they receive government funding. Everything else has developed organically and is based on community involvement and support.
It is the community involvement that Kathleen identifies as key to the success of SunnyKids.
"We saw the issues presenting to us as a real community issue and the community jumped on board. We have gone from strength to strength because of that," said Kathleen, "We are incredibly grateful because we know exactly what the support of the community means to SunnyKids, and we will never take that for granted."
Donate or sponsor SunnyKids here
What makes Queensland a great place to live?
As a child, Kathleen moved all over the country and usually every 6 months for her parents' work.
"When I was 16, we drove up the Nambour Hill on a 33 degree day where we were to live for the next six months," remembers Kathleen, "I was sitting with my three siblings squashed in the back seat of the Ford watching the ash from the sugar mill fall from the sky and wondering what our parents were doing to us."
"Everything changed for me as I settled into the Nambour community. When it came time to move again, I said no and that this is where I was staying," Kathleen recalls, "I fell in love with the place. Within six months it felt like home, and I did not want to leave."
It is here that you first understand how important community is to Kathleen.
"The feeling of community on the Sunshine Coast was palpable to me," she recalls, "Because we moved so much, I had never had a community outside my immediate family. The community here just embraced me and my family, and it felt like I was already a part of the community even though I was new."
"Of course, the weather is beautiful, but it is the community connection that underlies just about everything for me and that personal experience, feeling like a local from day one, made the Sunshine Coast my home."
What makes Queensland a great place for business?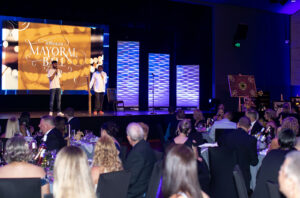 "SunnyKids exists and thrives because of other businesses, and it is their support that makes Queensland a great place for business – the support of other businesses in our community."
Almost 100 businesses on the Sunshine Coast contribute every month to support SunnyKids to manage their costs by contributing to the micro-philanthropy program P100 where a minimum investment of $100 per month helps deliver sustainability.
"Other businesses understand that SunnyKids has bills to pay – administration costs, keeping the lights on. More than that, our sector is so tightly regulated that we have to go through two separate audits on our practice alone every eighteen months, as well as financial audits, and these cost money that the government does not always provide," Kathleen says.
"Without businesses supporting SunnyKids to manage our administrative costs, we would not exist the way we do," Kathleen tells us, "Just as important, these businesses then become our messengers in the community so their loyalty to SunnyKids allows us to reach even more people. People become more informed about the work SunnyKids undertakes, we can support their staff and management teams so that they are well informed to work with the people in their lives as well. It helps to change some of that narrative and stigma around some of the work that we do."
"When I'm looking at why Queensland is a great place for business I just think of loyalty and understanding of the businesses in the communities where we operate."
If you could change one thing about Queensland, what would it be?
Kathleen starts by recognising the positive impact of the platform for social issues here in Queensland.
"We saw that with the Hannah Clarke Foundation, and we experienced that with the enquiry into QPS," said Kathleen, "What I see here in Queensland is that social change can really drive legislative change and that is a positive thing."
Housing affordability tops Kathleen's list for change in Queensland.
"The intersecting considerations of this issue right now is terrifying and I realise it is not just a State or national issue, it is a global issue," she says, "We are seeing the impacts of this issue in a way we have never seen in my lifetime, and it is terrifying. The shift in availability of housing is placing enormous pressure on families in a way that many have never experienced before. I am concerned not just about the economic impact to our community but the mental health and wellbeing impact to families and how this is sustained moving forward."
"This is a real issue that has a platform – everybody is looking at ways to mitigate the harm right now, but it is insufficient. We know inflation is an issue, we know increasing the interest rates is meant to manage inflation but the impact it is having on housing affordability and availability is huge. The dream of people having that sort of safety and security is no longer driven by economic stability and this is evident because we are seeing people with 6-figure incomes who can't get a rental simply because there is not enough available."
"It is a huge social issue when economic stability is not enough to create safety and security for people".
Kathleen believes more attention is needed right now and acknowledges that even though the issue played a huge part in the Federal budget, it is still not nearly enough to address the impact she is seeing every day.
She saw the issue start to arise at the beginning of COVID when the housing market did not act in the way anticipated.
"Nobody expected housing prices to go the way they did. We expected availability to take a hit though, particularly when expats were coming back into Australia, but we didn't expect the migration rates to Queensland to be so high, particularly on the Sunshine Coast"
The impact Kathleen is seeing is huge.
"The psychological and neurological impact when money is not enough to keep people safe is a huge shift for humanity in general. It sounds dramatic but we have always understood that the more resources we have access to, the more secure we are. When that security is taken away, even though you have the resource, it creates a conflict and a dissonance for people, and they don't know how to find stability. Psychologically it is having a huge impact on people who have never been impacted this way before."
Kathleen identifies housing affordability schemes that have worked before and believes these could work again, such as the National Rental Affordability Scheme targeting low and middle income earners, average and ordinary families, due to come to an end in 2023/2024. She believes that reintroducing some of the previous schemes used could see an immediate alleviation of these pressures but recognises access to global resources faced by the construction industry is also impacting availability.
"Right now we have got people choosing not to buy medication and not to put food on the table because their rent has more than doubled," Kathleen tells us, "$170 a week increase in rent for the average family is their grocery budget so it is an incredible shift for so many families who were comfortable and now they don't know what to do."
What do you hope for Queensland in the next 10 years?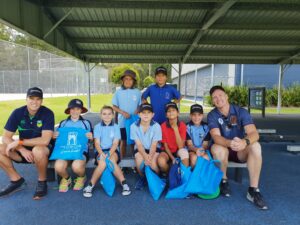 There are a couple of things Kathleen is looking forward to, including the Olympics being held in Southeast Queensland in 2032.
"The economic and employment benefits, particularly around the planning and development for the Olympics is an opportunity for Queensland to be on the world stage. It is going to be great for tourism and employment," she says, "I think people will see the beauty and they will want to come from around the world, and that is a positive. There is a fair and reasonable argument for wanting to sustain Queensland the way it is and for not necessarily pushing for that tourism, but it is a big part of our economy, and we won't have the lifestyle we want to have if we don't look for opportunities like this and take advantage of that.
She recognises the potential for great Australian athletes winning in their own country being something really special for the State.
Based on what Kathleen is seeing in the work she does, her hope is to see significant change and reviews in legislation, particularly addressing the differences between State and Federal legislation in family law.
She believes Queensland could lead the way in developing legislation that is more effective in family law cases, starting with child protection.
"Even though the Child Protection Act allows us to contravene a decision of the Federal Circuit and Family Court of Australia (FCFoA), it is not used," Kathleen says, "Every day we experience a 'wait and see' approach adopted when family law proceedings have been commenced. It is astounding to me that action is not taken even when there is an awareness, or even evidence, of harm. Children are not protected because of legislative discrepancies, and this has to be addressed."
Kathleen recognises the enormity of this change but what she has seen and experienced in her eleven years reinforces that change is needed.
She would start by seeking input from all levels of family law matters on the pillars related to human rights, such as the Domestic and Family Violence Act and Child Protection legislation. Kathleen recognises efforts by FCFCoA in protecting vulnerable parties and children in family law proceedings through the recently expanded Lighthouse model, but believes more needs to be done.
"I'm not for a second assuming I have got all the answers and I know it is way more complicated than I am aware of but I know many advisors who believe change is needed," said Kathleen, "There is way too much emphasis in our legal system on assets and property instead of the person, and this has got to shift."
What is your favourite place in Queensland?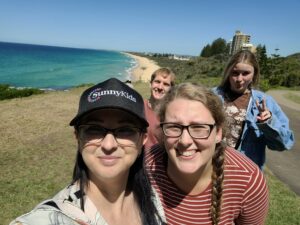 Kathleen's first response is, of course, the Sunshine Coast but she quickly follows this with Hervey Bay for the pier and crystal blue water, and then adds Yeppoon to her list.
After discussion, we "narrow" it down to anywhere on the Queensland coast, as well as inland Queensland, so pretty much anywhere in Queensland.
Which Queenslander do you most admire?
Kathleen was most challenged by this question because there were so many people she could mention but she narrowed it down to two people.
First, and for very personal reasons, she identified Noosa Mayor Clare Stewart. Kathleen spoke of Mayor Stewart's mantra going into and since the election as being honesty, integrity, accountability and service.
"These can be really empty words, but I have seen Mayor Stewart put this into action in every interaction I have had with her even when there is no political benefit to her whatsoever," Kathleen says, "When she understands an issue, she fights for it. That type of integrity is intrinsic, and I have seen her maintain her integrity. Even when I have disagreed with things she is doing or things she is saying, I have had to respect the way she stands her ground. It does not come from a place of ego but is about doing what is right, and this is incredible and so rare in politics."
"I really, really respect this woman, I respect her position and I respect what she is doing. She is definitely someone I admire greatly."
"Another person I admire is a client I have worked with who first came to our refuge a number of years ago. Like so many other women who suffer domestic abuse, she was the perfect wife in public while being abused and dehumanised in the background, a story we hear all the time. This woman showed me a strength that I had not encountered before in navigating the system," Kathleen states, "After she left, the perpetrator used the system to protect himself, and it has worked to protect him. At every turn, her seeking freedom and safety for her children has been impacted and it has been an arduous journey for her. Even at her lowest point she has stayed strong enough to fight, not for any accountability on his part, she is fighting for her freedom and the safety of her children. The persistence she has shown takes a determination that I can't even measure – it is enormous integrity and commitment in the pursuit for freedom and safety that not everybody can sustain. Every day I admire this woman who is continually looking at ways she can keep safe, function and support others – all happening behind the scenes."
Donate or sponsor SunnyKids here
Find out more about SunnyKids here

About
SunnyKids provides a social and emotional safety net for thousands of children and their families through their award-winning "Virtual Village" practice model.
Offering up to 8,000 nights of emergency accommodation, as well as domestic violence and referral counselling, each and every year to local families in need, SunnyKids partners with health, education and child protection agencies to keep kids safe.
Their underlying, driving belief is that any issue is not the child's problem to fix, nor is it the family's or the community's problem alone. It requires a community solution in which everyone takes responsibility and works together, empowering us all. The SunnyKids Virtual Village supports at-risk children, young people and families to overcome issues and be their best.
The SunnyKids vision is a society in which everyone feels safe, belongs and has a chance to reach their full potential.
The SunnyKids mission is to achieve this by working with children, families and communities to help everyone take responsibility for the future.