What makes Queensland a great place to live?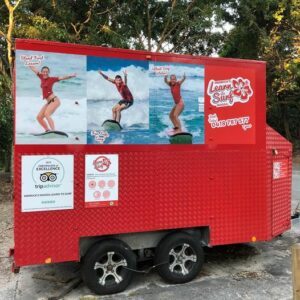 "The weather – Noosa is one of the only surfing schools in the world that can run 7 days a week every week of the year. Where else in the world would you only need wetsuits for a couple of months of the year?"
What makes Queensland a great place for business?
"The opportunities – Queenslanders are willing to give other Queenslanders a go.
Specifically, for us and what we do, it is the north facing aspect of Noosa Main Beach which makes it the safest beach I know to teach beginners to surf."
How were you impacted by Covid-19?
"We were smashed – overnight our business went to nothing and the recovery has been slow. We are currently operating at about 70% of our pre-Covid capacity but the upcoming school holidays are looking busy and we are looking forward to welcoming visitors from across Australia, as well as the return of overseas tourists and backpackers.
People have been great through this period and, when they could travel to Noosa for holidays during the last couple of years, they have supported us by coming along for lessons or board hire."
What do you hope for Queensland in the next 10 years?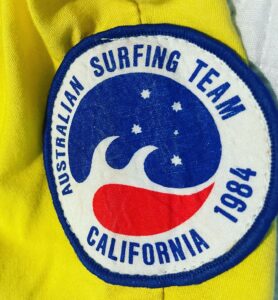 "The Olympics coming to Queensland is a huge opportunity and we hope to see improved infrastructure, particularly transport to the Sunshine Coast, become a reality before #brisbane2032.
To see Noosa host some of the surfing competition for the Olympics would be a dream come true for me," said Merrick, "I was part of the Aussie team who surfed in Los Angeles 1984 when surfing was an exhibition sport for the first time. To see surfing as an Olympic sport at Tokyo 2020 where Aussie surfer Owen Wright won an Olympic Gold Medal was amazing but nothing would beat seeing an Aussie win a Gold Medal for surfing at a Queensland beach, particularly if it could be Noosa."
Where is your favourite place in Queensland?
"Granite Bay in Noosa's National Park surfing with the community of people I know here in Noosa.
For those looking for something out of the water, Elissa recommends her favourite Noosa spot – Noosa Lookout."
Can you teach anybody to surf?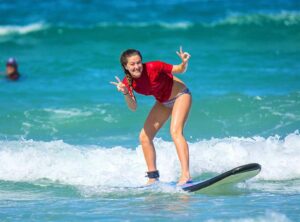 "Of course – we've been guaranteeing students will stand in their first lesson for 28 years! I developed the 1-2-3 system which gives everyone who comes to us the structure to learn to surf by building the skills needed.
It's the best job in the world. There is always a moment when somebody stands up on their board for the first time and looks up to see the pristine coastline up to Double Island Point and the look on their face says there is nowhere else in the world they would rather be  – that moment and that look is what makes me love what I do, even after 28 years."
Our team of elite world class coaches provide students with the skills, drills and style needed, matched with quality soft boards makes it easy for everyone. To be honest, those people who have never surfed before are the easiest to teach but we can teach anybody.
As well as teaching individuals, we also teach corporate groups and schools. We are really proud of our school program which has allowed kids from all different backgrounds and capabilities to experience surfing.
Our school is Accredited by the ASI (Academy of Surfing Instructors) which recognises quality and safe operations to ensure we operate at the highest international industry standards."
Who do you think of as a Great Queenslander?
"I have been lucky to teach or surf with some amazing people over the years. Someone who stands out for me as a Great Queenslander is Jonathan Thurston. My dad played rugby for Manly so I grew up around rugby and appreciate the brilliance of Jonathan's sporting skills. But it is his efforts off the field for those who might not have the same advantages that symbolises what being a Queenslander is all about for me."
Book a surf lesson at Noosa Learn to Surf here.

About
Noosa Learn to Surf is Noosa's longest-running and most recognised Australian surf school. Lessons run year-round excluding Christmas Day and New Year Day for participants aged 7 and above.
As well as offering group and individual lessons, school holidays, kids club and safe surfing programs, Noosa Learn to Surf also caters for corporate and team building and school groups.