What makes Queensland a great place to live?
"Warmth," is Rupert's immediate response before he goes on to explain this description means so much more to him than just Queensland's climate.
"It's the people who live here. When thinking about what makes something great and reflecting on the best times we've had, from parties, BBQs, catch-ups and big events, it's always the memories of the people that rise to the surface, and the warmth that comes from these people."
"People make things memorable, and for me, particularly the down to earth nature of the people here in Queensland make it a great place to live."
After moving to Sydney with two young children and living there for two years, his desire to raise and school them in Queensland, close to family and friends, brought Rupert and his wife back to Brisbane.
"I was raised here, and my wife is from Augathella – a grass roots country town – Queensland is our home."
What makes Queensland a great place for business?
An unusual question to ask a poet, Rupert recalls his short career as a lawyer.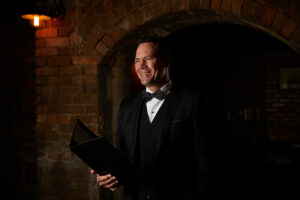 "For me, a sense of freedom in Queensland – believing that anything and everything was possible- gave me the opportunity to leave the law early – to trust my instinct and listen to an inner voice that implored me to follow the path of my greatest passion…which was storytelling."
Rupert acknowledges this could probably have been done anywhere in Australia, but he believes success probably arrived more quickly for him here in Queensland.
"There is a genuine freedom to take up opportunities in Queensland and with all that is happening in our State, there seems to be a great upside for business right now. I believe there is as much opportunity as there has ever been and that is very exciting."
Throughout his career Rupert has had many opportunities to take inspiration from Queensland icons.
"In my lifetime great changes have come about because of milestone events like the Commonwealth Games and Expo 88," Rupert remembers, "For example, outdoor dining legislation was enabled because of Expo 88 and is now one of the highlights of the city's culinary landscape. Brisbane's focus on the river became central to our identity and, over the next decade leading up to the Brisbane Olympic Games in 2032, we'll see our city and State get even better. The world is taking notice."
There is a real sense of pride around the table as we talk about Brisbane being named one of the "World's Greatest Places of 2023" by Time magazine, with a puzzling undertone of why it hasn't happened sooner.
If you could change one thing about Queensland, what would it be?
Rupert clearly knows what he is going to say as he begins with a chuckle, "As a teenager growing up on the Redcliffe Peninsula, I would have said move Moreton Island one kilometre to the left and deliver a surf beach to Redcliffe. The Coast kids were so much cooler because they had the surf. All we had was fishing!"
Today Rupert has a more serious and much more realistic wish.
"Now I want to see us protect and preserve our heritage as Brisbane becomes a world class city."
"Too quickly we have torn down monuments of our past, monuments of our city – Cloudland, the Bellevue Hotel in Brisbane, and the Palace Hotel on the Peninsula where the Bee Gees kicked off their world famous career. Now it's just a hole in the ground, and it breaks my heart whenever I drive past."
"It is important for us to protect and hold onto this history for future generations. While I'm also mindful of not getting stuck in the past, it's important to remember where we came from, and to treasure it."
What do you hope for Queensland in the next 10 years?
"The Olympics really is a marker in the sand for us and it is an exciting time, particularly for our kids," says Rupert.
"It will bring significant change and propel us forward but we need to keep in mind what it is that makes Queensland so unique and so great, and not lose sight of it."
"It definitely feels like a coming of age but it's important that we remember not to be so much in a hurry that we lose our true identity – our relaxed, laid back, friendly nature. We should always stop to soak up the sunshine and appreciate what is happening around us. In this great nation of Australia, I hope we remember what it is that makes us Queenslanders!  We are the most relaxed, friendly and welcoming species of all!."
Where is your favourite place in Queensland
Although Rupert starts by mentioning Lang Park and Suncorp Stadium because of all that has happened there over the years, he settles on his front deck at home.
"When I am sitting there, whether it's with a cup of tea as the sun dawns listening to the birdsong, or later in the day with a cold beer or wine surrounded by family, friends or neighbours, firing up a few of my favourite tunes, I know I am where I am meant to be."
Who do you think of as a Great Queenslander?
As with many people we have spoken to, this is the most difficult question for Rupert to answer because he seems to have too many options!
"Allan Border for his undying spirit no matter what the adversity," says Rupert, "AB had this fight and never-say-die attitude and belief that his team and the people around him were always capable of more, yet it was delivered with such humility. Even today and for all his greatness, he never likes to draw attention to himself."
"Cathy Freeman is another. The pressure on her to perform at the 2000 Olympics was immense…she carried the weight of our whole nation on her back…and she delivered. It was more than just a race and medal though – the pride of a country was at stake and it meant so much to her indigenous roots. It united all of the different colours of our nation."
"And I also rate the band Powderfinger. I love how Bernard Fanning would open a concert no matter where he was in the world by saying 'G'day folks. We're Powderfinger…and we're from Queensland."
About Rupert McCall
Rupert McCall is an Australian poet of international renown. His tributes to special events and occasions have become highly sought-after and treasured for the indelible mark they've left on audiences everywhere.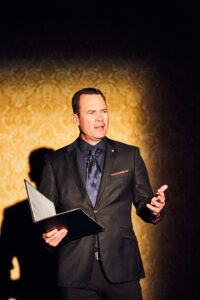 He is the author of six anthologies of verse that have collectively sold over 120,000 copies. Equally at home in radio or on TV, his resume features hosting roles for CH7's "The Great South East", 4BC's "Sports Today" program and CH9's "Weekend Extra". Rupert's great passion for sport was on display when he was appointed commentator for CH10 at the 2007 Rugby World Cup in France.
His popularity transcends all demographics and ages, from the schools he visits to the corporate and sporting functions that he entertains. He is a passionate Australian and his ability to share this enthusiasm with any audience is warmly received.
In 2013 as part of the Queen's Birthday Honours List, Rupert received a Medal (OAM) of the Order of Australia for services to the community, particularly as a poet.
Find out more about Rupert here.