VCard
Brian White, FNI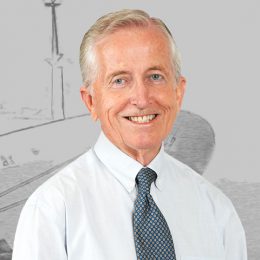 Phone: +61 7 4031 4711
Mobile: +61 7 412 184 856
Email: bwhite@thymac.com.au
I am a London-trained marine lawyer and have been in private practice since 1979. I am also a former shipmaster with marine pilotage and surveying experience. In addition, I am a notary public.
I am regularly involved in the investigation of shipping casualties of various kinds. I also advise in connection with charter party and bills of lading disputes, shipbuilding contracts, ship sale & purchase agreements and marine salvage and wreck removal cases. In addition, I provide guidance to shipowners and their liability insurers in dealing with passenger and crew medical emergencies, crew and stowaway repatriations, the defence of personal injury claims, marine pollution investigations and claims and the defence of prosecutions against shipowners, ship masters and others.
We are correspondents for the Member Clubs of the International Group of Protection & Indemnity Clubs and advice and assistance is also provided to hull and machinery and other marine insurers. In addition, we act as local agents for many international law firms specialising in shipping and transport work.
I am admitted to practice law in most states and territories in Australia as well as in Papua New Guinea and Solomon Islands, and I am currently the only notary public practising in PNG. I am a fellow of the Nautical Institute and also Honorary Consul-General for Denmark in PNG.