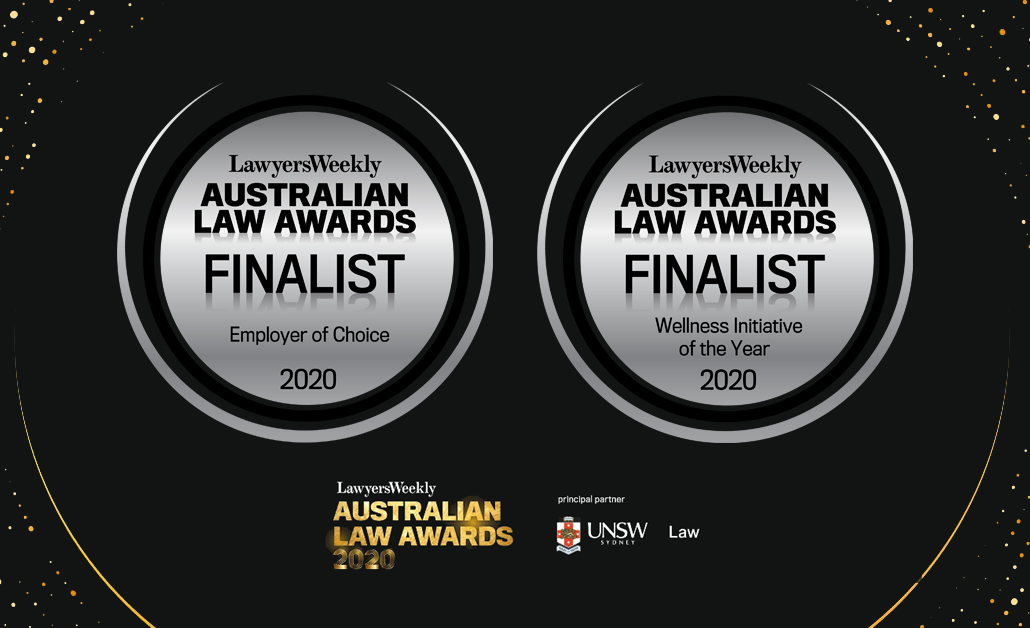 Lawyers Weekly have selected Thynne + Macartney as a finalist in both the Employer of Choice and Wellness Initiative of the Year categories at the Australian Law Awards 2020.
We are particularly proud to be recognized in these categories. Looking after our people and their wellbeing has been a guiding principle at Thynne + Macartney throughout our 127-year history.
Taking a holistic approach to lawyers, staff, their careers and lives is a key factor in our success. Billable targets and requirements of our staff are set with regard to their lives and commitments outside of work.
With a network of support for our staff, Thynne + Macartney offers a range of health and wellbeing initiatives and programs, including:
12-month wellness program;
Early Career Lawyers program assisting our lawyers to build networks and skills from the early stages of their careers;
Women in Legal Leadership supporting our female partners and women lawyers in their careers;
Parental leave policy;
A Learning and Development program offering over 40 sessions each year;
Coaching and mentoring to all staff;
Sporting teams with regular competition entries; and
Book club.
If our people are healthy and happy, we believe it reflects in everything they do – the quality of their work, the success of their relationships with clients and each other, and their positive contribution to the Queensland community.
The impact of this approach is reflected in the number of staff who have had long careers with the firm. More than 40% of our current partners and lawyers have been with Thynne + Macartney for their entire careers.
The Australian Law Awards is in its 20th year and recognises excellence across the entire legal industry, celebrating both the individuals and firms that are leading the way in the industry.
Last week Thynne + Macartney was announced as a finalist for Property Team of the Year after the firm advised on property transactions exceeding $1.3 billion in value.
The winner of the Australian Law awards will be announced via a virtual ceremony on August 7, 2020.
---
About Thynne + Macartney
With a history of 127 years, Thynne + Macartney is a proudly independent, commercially focused, Queensland-based law firm with strong boutique practices in Agribusiness, Maritime & Transport, Property and Insurance.
 Proud of our history, excited by our future.
We're with you.
This information is intended to provide a general summary only and should not be relied on as a substitute for legal advice.