Last night, as part of Thynne + Macartney's Discovery Series, we were joined by guest speaker Tessa Boersma, runner up of MasterChef 2019.
The Discovery Series, hosted by our early career lawyers, aims to encourage young professionals from a range of industries to come together to network and, as the name suggests, discover something new.
Tessa spoke about taking whisks and her journey through and after MasterChef. She encouraged everyone to try something new and to back yourself no matter what.
Attendees also discovered what happens behind the scenes of a reality TV show. Did you know that contestants have their phones and wallets confiscated over the course of the filming period?
A huge thank you to Tessa for speaking on the evening and good luck with your future endeavours!
About Tessa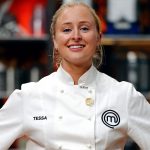 Tessa is a cook, educator, presenter, recipe writer, public speaker and a lover of all things food. Before entering the 2019 MasterChef Australia series, Tessa was a Criminal Statistician until she was encouraged to apply for the show. Thanks to her time on the show, she has learned a lot about herself, including having confidence in her own ability, coping well under pressure and backing herself.
Check out Tessa's website and Instagram.
Gallery