Thynne + Macartney has continued the celebrations in its 130th year, having been selected as a finalist for 'Employer of Choice' at the upcoming Australian Law Awards hosted by Lawyers Weekly.
This award recognises the law firm or business that has gone above and beyond for their legal employees, ensuring staff attraction and retention remain high by placing importance on the quality care of their people.
We are particularly proud to be recognised in this category.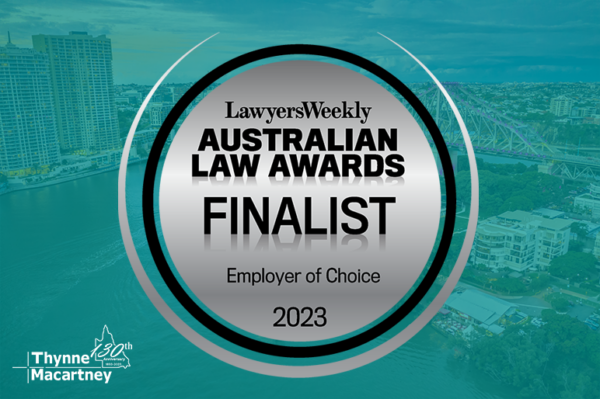 "Taking a holistic approach to lawyers, staff, their careers and lives is a key factor in our success," said Marc Maskell, Chairman of Partners. "We set billable targets and requirements of our staff with regard to their lives and commitments outside of work. We believe that if our people are healthy and happy, it reflects in everything they do – the quality of their work, the success of their relationships with clients and each other, and their positive contribution to the Queensland community."
The impact of this approach is revealed by the significant number of staff who have had long careers with the firm.
The Australian Law Awards celebrates excellence in the legal industry, honouring leading individuals and law firms.
Winners will be announced on Friday, 11 August 2023.