So far, Queensland has experienced comparatively limited numbers of COVID-19 cases and relatively limited business and lifestyle restrictions. This position is likely to change on 13 December 2021, when Queensland reopens its borders to both domestic and international travellers, which will result in an increase in transmission of COVID-19 in the community.
It is a good time for businesses to consider how they will manage the risk that increased transmission poses to the health and safety of workers, as well as to business operations and continuity. Businesses should consider the likely impacts of any confirmed cases (including potential closures and/or isolation requirements) and how these will be managed.
Reconsider safety measures in light of increased risks
Businesses have obligations under WHS legislation to ensure the health and safety of workers, as far as reasonably practicable. What is reasonably practicable depends on the circumstances, including the risk of exposure, the severity of the disease and the availability and cost of control measures.
While most businesses already have various control measures in place, such as cleaning and hygiene protocols, social distancing and mask wearing, vaccination is another measure that may be taken to keep workers safe. Vaccination is generally considered to be a superior measure that significantly reduces the risk of death and hospitalisation from contracting COVID-19, as well as reducing the risk of transmission to others.
Can my business mandate vaccination for employees?
Employers can direct employees to be vaccinated if the direction is lawful and reasonable.1 In most cases, such a direction is likely to be lawful, provided there are no contrary terms in an employee's contract or enterprise agreement.
Whether the direction is reasonable will depend on various factors including:
levels of community transmission;
working conditions (for example: certain environments favour transmission);
role requirements including the ability to socially distance and work from home;
the availability and effectiveness of other control measures; and
the business impacts of a confirmed case (for example: site closure).
In light of these factors, the legal risk may differ between business locations and even work groups at the same location. Advice should be taken on the particular circumstances.
If a direction is given, businesses should ensure that:
it is introduced on a reasonable period of notice, to allow time for compliance (noting the timing for two doses) and for objections to be raised;
appropriate exemptions are permitted, including to comply with anti-discrimination laws; and
consideration is given to privacy law requirements.
Businesses should also ensure that they comply with consultation obligations (to meet obligations under the WHS legislation and any applicable enterprise agreements/modern awards), as this is a basis on which challenges are being made.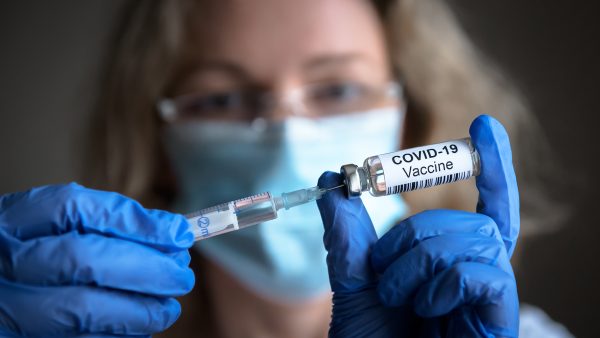 Plan for challenges
Mandatory vaccination is likely to be opposed by some individuals, and it is recommended that businesses build in a process for considering and addressing exemptions on a case by case basis. This will mitigate legal risk, by ensuring that issues are resolved where possible, and that the business is taking a reasonable approach in individual cases.
Plan for business impacts
The landscape is likely to evolve as transmission occurs and cases increase. Businesses should develop a protocol for what will happen in the event a confirmed case on site.
They should also develop plans to address potential impacts, which may include:
site closures or disruptions to operations, in the event of confirmed cases;
reduced operational capability (where workers are directed to quarantine/isolate as close contacts);
an increase in working from home arrangements or requests;
the possibility of public health orders requiring vaccination of certain workers;
union right of entry on safety grounds; and
workers' compensation claims.
Appropriate contingency plans may involve replacement staff, flexible leave arrangements, working from home arrangements and other arrangements.
How can we help?
We can provide advice on your specific circumstances, including:
whether you can require workers to be vaccinated;
whether you can ask workers about their vaccination status;
how to manage COVID-related employment issues, such unpaid leave, working from home and vaccination challenges;
compliance with safety obligations; and
compliance with other laws such as discrimination and privacy laws.
Please contact Employment Partner, Emily Harvey, if you would like assistance.
1 Note: There are public health orders in place requiring certain categories of workers to be vaccinated, including in health care, residential aged care, and quarantine facilities. Employers must comply with these orders.
This information is intended to provide a general summary only and should not be relied on as a substitute for legal advice.
---
About the Author