Thynne + Macartney is excited to announce the promotion of four lawyers, including one new Partner, effective from 1 July 2023.
Congratulations to the following lawyers on their promotions: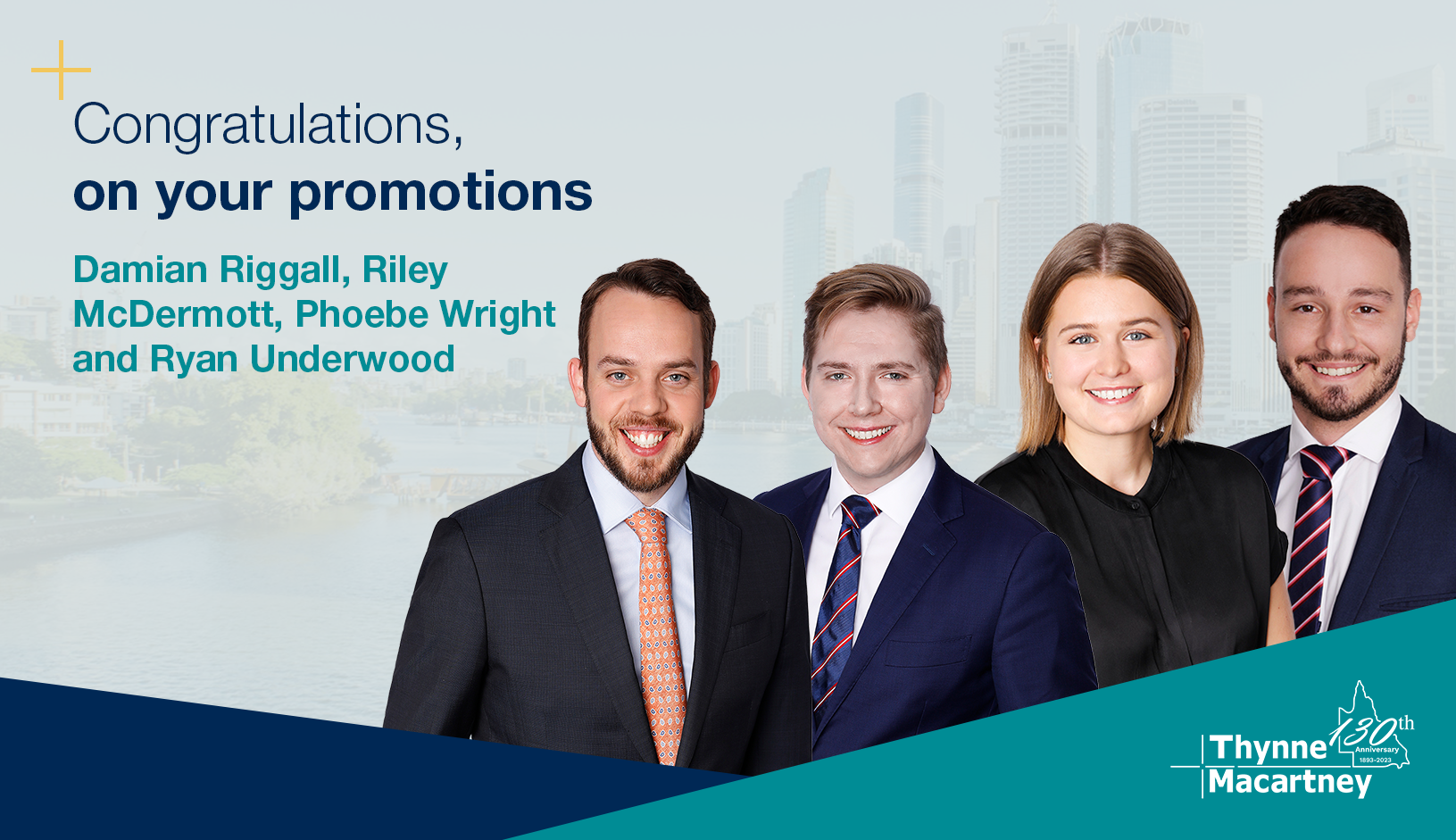 Damian, Phoebe and Riley all joined the firm as law clerks while studying at university. Following admission, they have continued their legal careers with Thynne + Macartney. Ryan joined the firm in 2021 and established himself as a key member of the Business + Corporate team."We are delighted to announce these promotions," said Marc Maskell, Chairman of Partners, "As Thynne + Macartney commemorates its 130th anniversary in 2023, we are proud that nearly all of these promotions are again lawyers who have been with the firm for much of their professional careers. It gives us great confidence as custodians of the Thynne + Macartney legacy to know that the ongoing success of the firm is in the safe hands of our future leaders."
Thynne + Macartney is also celebrating being recognised as a finalist for 'Employer of Choice' at the upcoming Lawyers Weekly Australian Law Awards. Everybody at the firm strives to create a positive workplace culture. Taking a holistic approach to the lives and careers of lawyers and staff, the firm offers high-quality work and career progression, and sets billable targets and expectations of professional staff with regard to their lives and commitments outside of work.
"A leading principle of Thynne + Macartney is investing in our people and putting them at the centre of everything we do" said Ashleigh Poole, Partner in Wills + Estates, "We know from experience that longevity of careers is a marker of the firm's success, so we offer programs and ongoing workplace policies and initiatives that support the success of our staff throughout their careers."
Congratulations to our four practitioners!
Damian provides advice on professional indemnity and insurance litigation on behalf of insurers and their insured. He develops strategies to facilitate the fair and expeditious resolution of conflicts and disputes and focuses on guiding professionals through the intricacies of litigation. Known for being approachable, practical and measured, Damian believes that the early assessment of claims helps achieve practical and prompt resolutions. Damian also provides policy advice to professional indemnity underwriters.
Also experienced in employment law, Damian represents employers across an array of industries before the Fair Work Commission, Federal Courts and specialised tribunals. His advice covers employee management and discipline, termination and restraint provisions.
Riley is experienced in commercial litigation, focusing on restructuring and insolvency. He works with insolvency professionals across a broad range of appointments, including liquidators, external administrators, deed administrators, receivers and creditors.
Riley's experience of insolvency appointments includes pursuing debtors, defending claims brought by liquidators or acting for directors of companies who have been subject to an insolvency appointment.
Growing up in central regional Queensland, Phoebe's interest in agribusiness was sparked by her family's rural connections. After joining Thynne + Macartney's pre-eminent Agribusiness team in 2019, Phoebe has developed her expertise in rural property transactions, succession planning, business restructures and third-party land access agreements. Phoebe regularly travels to regional Queensland as part of Thynne + Macartney's visitation program.
Ryan is an Associate in Thynne + Macartney's Commercial team. With more than five years' experience, Ryan focuses on commercial transactions. Since joining the firm in 2021, Ryan has developed his expertise in contracts, leases, option agreements and share sale agreements. He advises clients on a range of matters including corporate law, privacy law and trust law . Ryan works with a diverse range of clients, including national businesses, private developers, landlords, small business owners and Thynne + Macartney's community partner, Gallipoli Medical Research Foundation.
Proud of our history, excited by the future.
We're with you.