Thynne + Macartney congratulates Danielle for her selection as a finalist for Special Counsel of the Year by Lawyers Weekly at their 2021 Women in Law Awards.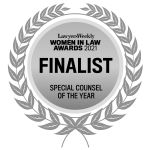 During the last 12 months, Danielle has advised on numerous significant planning and environment matters in Queensland.
Prior to her career in law, Danielle worked for more than 10 years as a town planner. Since joining Thynne + Macartney in early 2020, this experience has benefited clients and helped to increase the service offering of the firm's Planning + Environment group.
Danielle is also involved in Thynne + Macartney's Mentoring Program and is a Contact Officer for the firm.
Earlier this year, Thynne + Macartney's Tim Quirk was recognised as a finalist for Partner of the Year in the category of Planning and Environment at Lawyer's Weekly Partner of the Year Awards.
This recognition for both Danielle and Tim demonstrates how Thynne + Macartney is building one of Queensland's leading Planning + Environment teams.
Winners for the Women in Law Awards will be announced in November 2021.
---
About our Planning + Environment group
Thynne + Macartney advises clients on all aspects of planning and environment law throughout Queensland. Working with clients across the State, we help clients identify potential issues and find a pathway through the complexities of the law and regulations at a Federal, State and local level.
We advise on land development, lawfulness of land use, vegetation clearing and management, environmental management and compliance, infrastructure planning and charging, local and state planning instruments and coastal development.