Thynne + Macartney welcomes back Hannah Barbour today as a Special Counsel to work within its leading Agribusiness practice. 
A lawyer of more than 15 years' experience, Hannah is an accomplished succession planner, negotiator of landowner compensation packages and architect of business structures.
Agribusiness partners, Ari McCamley and Alex Ramsey, say that they are delighted to have Hannah return to serve the clients who count on them and their team as legal advisors with an agriculture specific skillset.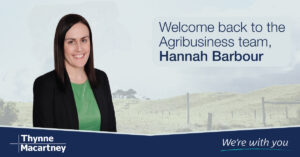 Hannah is an approved advisor under the Queensland Rural and Industry Development Authority's  Carbon Farming Advice Rebate Program and has negotiated dozens of carbon trading agreements for landholders throughout Queensland and Northern New South Wales.
Thynne + Macartney is ranked by Doyle's Guide as Queensland's only First Tier Agriculture and Rural Affairs Law Firm and Partners Ari McCamley and Alex Ramsey are both listed Preeminent Agribusiness Lawyers in Queensland.
Whether you're growing stock, crops or wealth – we're with you.