Thynne + Macartney is proud to announce our Maritime + Transport team's fifth consecutive year of recognition in the Legal 500 and fourth consecutive year of recognition by Chambers Asia-Pacific for expertise in Shipping Law.
According to the Chambers guide, "Thynne + Macartney is a greatly respected player for Queensland-centred shipping matters, particularly for P&I-related issues. Its team is highly experienced in casualty mandates, including associated wreck removal and environmental issues. The firm is also noted for its coverage of cargo damage claims and chartering disputes."
The Maritime + Transport team consists of Partners Michael Fisher and Matthew Hockaday as well as Senior Associate Murray Tavener, Associates Hongi Han and Rebecca Flynn, and Lawyer Chanveer Singh.
The Legal 500 highlights the team's strengths as, "Charterparty disputes, insurance liability claims, shipbuilding and repair contracts, vessel sale and purchase, transport terms and conditions, marine regulatory compliance, and risk management issues."
Both Michael and Matthew also received their fourth year of individual recognition from Chambers as leading lawyers within the practice area, citing their work in Queensland-centred shipping matters and in particular P&I related issues and clean-up after incidents.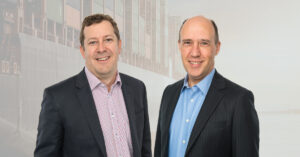 Chambers states, "Michael Fisher is practice head in Queensland and focuses principally on commercial and contractual issues in the maritime sphere, covering both their contentious and non-contentious aspects and acting prominently for leading ship owners and insurers. He has further experience in oil pollution clean-up and wreck removal."
Over the past 12 months Michael has demonstrated expertise as a Leading Shipping Lawyer, seen in his successful representation of APL England after the ship lost 50 containers overboard off the coast of Sydney in 2020. He guided his clients through the initial response to the incident (including applications by interested parties for access to vessel and preliminary discovery, security for claims and arrest) and the defence of class action proceedings in the Federal Court of Australia and arbitration proceedings.
Matthew was acknowledged for his extensive litigation experience in shipping-related disputes, particularly those concerning marine casualty incidents. His experience ranges across a variety of aspects of shipping issues also including environmental responses and compensation claims.
Referring to Matthew, Chambers says that, "He's a very knowledgeable lawyer who knows his way around the area very nicely."
Matthew's work last year extended across a range of high-profile matters including IXOM Operations Pty Ltd v Blue One Shipping SA [2022] FCA 1101. He was able to navigate his client through the complexities of the matter, which saw an application claiming over $1.7m in damages dismissed.
Thynne + Macartney was the only Maritime + Transport firm mentioned in the guide that is headquartered in Queensland. We have offices in Brisbane and Cairns with representatives in Darwin and Papua New Guinea.
---
About our Maritime + Transport group
Determined to give clients peace of mind, our experienced lawyers are available 24 hours a day, 7 days a week. We believe that an immediate response is critical to providing our clients with maximum control over the outcome.
Providing services to the maritime industry in Queensland, Northern Australia, Papua New Guinea, the South Western Pacific, Melanesia and Micronesia. Thynne + Macartney is headquartered in Brisbane with an office in Cairns.