Thynne + Macartney is excited to announce the promotion of two new Senior Associates and four new Associates effective from 1 July 2022.
Congratulations to the following lawyers on their promotions:
"This is the largest group of promotions in recent years," said Marc Maskell, Chairman of Partners, "We are particularly proud that nearly all of these promotions are lawyers who have been with Thynne + Macartney throughout their professional careers."
Tony and Morgan joined Thynne + Macartney as graduate lawyers completing a twelve-month placement before being offered permanent roles as lawyers with the firm.
Rebecca joined the firm more than 12 years ago, and worked with the Maritime + Transport team while studying law at university before joining the group as a lawyer following her admission in 2018.
Harriet joined Thynne + Macartney's leading Agribusiness team as a graduate in January 2020. She has continued working with the team since her admission as a lawyer in December 2020.
Both Vicky and Holly joined the firm more recently and established themselves as key members of the Wills + Estates team and Planning + Environment team, respectively. Both have been recognised as Rising Stars by Doyle's Guide to Queensland's Leading Lawyers in their areas.
"A leading principle of Thynne + Macartney is investing in our people and putting them at the centre of everything we do," said Ashley Lamb, General Manager, "The firm will celebrate its 130 year anniversary in 2023 and experience has taught us that longevity of careers is a marker of our success. We believe it is of the utmost importance to offer programs and ongoing workplace policies and initiatives that support the success of our staff throughout their careers."
Over the last 12 months, the firm has instituted 58 learning and development programs, including a substantial focus on mental health and wellbeing, leadership courses, communication skills, contact officer training, workplace behaviours including anti-discrimination, anti-bullying and emotional intelligence and positive mindset training.
The firm's annual mentoring program has been running for 15 years and engages 60% of the staff either as mentors or mentees, providing support and guidance at all levels of the firm and expanding relationships beyond immediate work teams.
A finalist for both Employer of the Year and Wellness Initiative of the Year at the Australian Law Awards in 2020 and 2021, Thynne + Macartney offers a holistic approach to the lives and careers of our lawyers and staff. As well as offering high-quality work and career progression, billable targets and requirements of professional staff are set with regard to their lives and commitments outside of work.
These promotions follow the recent arrivals of Partner David Fisher, Special Counsel Cathy Piccolo, Senior Associate Lauren Gamble and Associate Hongi Han during the first half of 2022, alongside the admission and promotion of Phoebe Wright, a fifth generation Queensland lawyer, in May.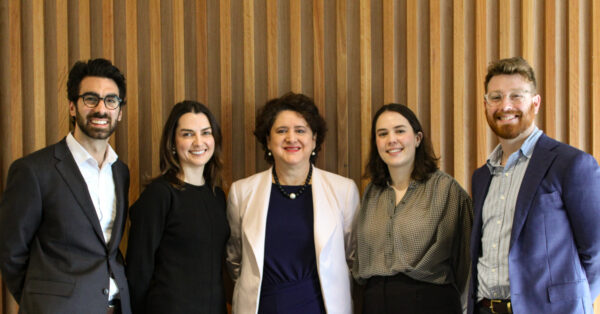 (L-R):  Tony Calligeros, Rebecca Flynn, Vicky Martin, Harriet Adcock, Morgan Healey. Not Pictured: Holly Vaughan
Tony joined Thynne + Macartney as a graduate lawyer in 2017. In just five years he has been promoted to lawyer, associate and now senior associate. Tony has excelled in his area of planning and environmental law and regularly assists clients in navigating the complexities of the law at all stages of their projects, including advising on disputes in the Planning Court, Environment Court and Land Court. His experience includes all aspects of land development and land use, heritage issues, prosecutions and enforcement proceedings for development and environmental offences, and vegetation clearing and management.
Vicky has more than 30 years' experience working in the legal industry, including 15 years in Wills and Estates. She helps clients understand the most appropriate estate plan for their situation, covering their Wills, Enduring Power of Attorneys, Advance Health Directives, Binding Death Benefit Nominations and all other estate planning needs. Vicky also helps executors and beneficiaries to navigate simple and complex estate administrations, Vicky has significant experience advising trustees on establishing and administering various trusts, including special disability trusts and charitable trusts. She is recognised as a Rising Star for Wills, Estates & Succession Planning by Doyle's Guide to Queensland's Leading Lawyers.
Harriet joined Thynne + Macartney's Agribusiness team as a graduate in January 2020. Her expertise includes purchases and sales of grazing and farming properties, land access and compensation arrangements for landholders involved in resource activities and statutory resumptions, carbon projects and succession planning for and restructures of family-owned and corporate agricultural businesses. Harriet continues a longstanding tradition of the Agribusiness team where members have a personal connection to rural Queensland.
Rebecca has worked at Thynne + Macartney for the past 12 years and was admitted as a lawyer in 2018. Working in the firm's leading Maritime + Transport practice group, Rebecca's expertise includes the full spectrum of contentious and non-contentious maritime and transport matters. She advises on carriage & charterparty agreements and sale & purchase of vessels and disputes, and has worked on many of Australia's high profile marine incidents and casualties (including assistance with immediate response, salvage and media strategies). She is also experienced in marine and ship liability insurance, arbitration and litigation, personal injury claims and statutory prosecutions.
Morgan joined Thynne + Macartney as a graduate lawyer in 2018. He was admitted as a lawyer in 2019 and now works with the Professional Indemnity team where he assists professionals to respond to claims and complaints made against them. He practices in a wide range of areas including disciplinary law, personal injury law and professional indemnity litigation matters. His clients include health practitioners, architects, engineers, insurance brokers real estate agents and property managers.
About Holly Vaughan
Holly was admitted as a lawyer in February 2020. A Planning + Environment lawyer, she helps clients, including developers and local governments, to navigate the complexities of planning and environment law at all stages of projects. Her experience includes disputes in the Planning Court and Environment Court, heritage issues, vegetation clearing and management, and prosecutions and enforcement proceedings for development and environmental offences. Holly is recognised as a Rising Star for Planning + Environment by Doyle's Guide to Queensland's Leading Lawyers.
About Thynne + Macartney
With a history of more than 129 years, Thynne + Macartney is a proudly independent, commercially focused, Queensland-based law firm with strong boutique practices in Agribusiness, Maritime & Transport, Property and Insurance.