Some great news this morning for Thynne + Macartney's Planning + Environment team with the release of the latest rankings by Doyle's Guide to Leading Law Firms and Lawyers.
Partner Tim Quirk has been recognised amongst the leading Planning & Development Lawyers in Queensland.
Thynne + Macartney's Planning + Environment team has been recognised and is amongst the Leading Planning & Development Law Firms and Environment & Heritage Law Firms.
During 2022 Tim and the Planning + Environment team have continued to be involved in a number of significant and high profile matters in Queensland.
The firm successfully represented a leading property developer in an appeal by Australian Country Choice over the approval of what could be one of Australia's largest indoor gyms.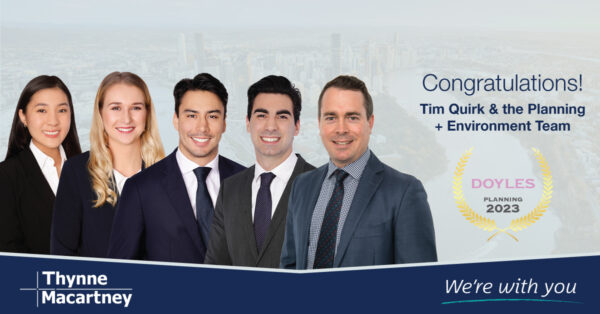 Another highlight for 2022 was Thynne + Macartney's successful representation of the residents of Hedges Avenue on the Gold Coast.
This was the first time the Planning and Environment Court allowed an appeal decided on whether the proposed development was compliant with Council's building height uplift provisions. In the appeal , the four-storey apartment complex was found to be inconsistent with the special identity and sense of place enjoyed by the residents of the predominantly two-storey beachside area.
Earlier Court appeals considering the challenges (typically by the adjacent residents) and provisions had been unsuccessful.
Tim, now recognised for the ninth consecutive year by the Guide, works with clients who need a skilled professional with an understanding of the intricacies of planning and environment law and can effectively run a matter to trial in the Planning and Environment Court or realise and deliver commercial recommendations and outcomes to clients through negotiation or mediation.
It has been a busy twelve months for Tim who has also been recognised as a: