Once again we are excited to announce the listing of Ashleigh Poole and Thynne + Macartney with Doyle's Guide.
Ashleigh has been recognised as a Leading Wills & Estates Litigation Lawyer, an award she has received since 2017, as well as a Leading Wills, Estates & Succession Planning lawyer, which she first received in 2018.
Now in her third year as partner, Ashleigh oversees her established and diversified team – able to assist clients in any matter across their estate planning, administration or litigation.
Her team offers tailored solutions and continuous commitment to clients' objectives, which has earned them recognition as a Leading Wills & Estates Litigation Law Firm and Leading Wills, Estates & Succession Planning Law Firm in Queensland.
The all-female team incorporates the new addition of Special Counsel Cathy Piccolo, who joined earlier this year, and recently appointed Senior Associate Vicky Martin who both contribute to the team's 50+ years of Wills & Estates experience.
This acknowledgement follows Ashleigh's recent selection as Finalist for Wills and Estates Partner of the Year at the Lawyers Weekly Australian Law Awards and acknowledgement by Best Lawyers as a leading lawyer in Wealth Management & Succession Planning.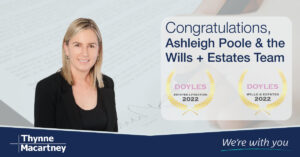 Thinking about starting or updating your Will? Download our estate planning e-book covering topics relevant to estate planning here.

To find out more about Thynne + Macartney's Wills + Estates services, our video series focusing on Wills + Estate requirements at all ages, click here.

To Enquire with Thynne + Macartney today about your Will or estate planning, click here.
An accredited specialist in succession law, Ashleigh has over 12 years' experience in all areas of estate litigation, estate planning, estate administration and leads Thynne + Macartney's Wills + Estates team. By providing practical and commercial advice and solutions to clients and working closely with their trusted advisers Ashleigh achieves their desired outcomes in an efficient way.
She is empathetic to clients' individual situations and assists them in navigating through what can often be a difficult time in their lives.
During Cathy's extensive career she has worked within the areas of estate planning, administration and litigation. Her 30 years as a lawyer has led her to develop a large range of knowledge within Wills + Estates and helps her prepare for all eventuating circumstances.
When things don't go to plan Cathy quickly to assist clients in making a claim pursuant to family provision applications, as well as defend claims against estates. She also understands the impact unintended consequences can have on individuals and families when the intentions of the deceased are unclear or inadequate.
With over 20 years working within the legal industry, Vicky brings a large depth of knowledge and a range of skills to the Wills + Estates Team. She works closely with executors and beneficiaries to navigate simple and complex estate administrations and advise trustees on establishing and administering various trusts, including special disability and charitable trusts.
Vicky helps clients understand the most appropriate estate plan for their situation and help them prepare their Wills, Enduring Power of Attorneys, Advance Health Directives, Binding Death Benefit Nominations and all other estate planning needs.