Ashleigh Poole, Nicole Green and Vicky Martin have been selected from over 820 submissions as Finalists in this year's Lawyers Weekly – Women in Law Awards across three award categories.
Wills + Estates Partner Ashleigh Poole is a finalist for Partner of the Year – SME Law at the Awards.
One of only 43 Queensland Law Society Accredited Specialists in succession law, Ashleigh and her team assist clients in their estate planning, administration or litigation.
Earlier this year, Ashleigh was named as "a woman who inspired us and sustained us in 2021" by Women Lawyers Association of Queensland Inc on their 2022 WLAQ Inspo List.
Best Lawyers Australia has recognised Ashleigh for her expertise in Wealth Management & Succession Planning since 2020. Ashleigh was nominated as a finalist for Wills and Estates Partner of the Year at the Lawyers Weekly – Partner of the Year Awards.
She has been recognised by Doyle's Guide as one of Queensland's leading Wills & Estates Litigation lawyers since 2017, and as a leading Wills, Estates & Succession Planning lawyer from 2018 to 2019, and again in 2021 and 2022.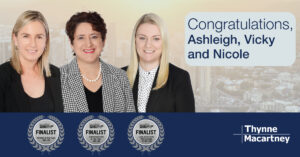 Wills + Estates Senior Associate Vicky Martin has been selected as a Finalist for Senior Associate of the Year – SME Law.
A pivotal member of the team, Vicky has quickly progressed to the role of Senior Associate since starting with the firm in 2020. For over thirty years, Vicky has worked in different roles across a range of legal environments.
Working with a diverse range of clients across their estate planning, Vicky drafts wills for clients that maintain their final wishes and, where required, complex wills for high-net-worth clients whose wealth is spread across various entities and assets.
She also deals with all aspects of an estate administration after the death of a loved one and, when an estate is in contention, guides clients through the process to achieve the best outcome.
Doyle's Guide recognised Vicky as a Rising Stars for Wills, Estates & Succession Planning in Queensland in 2021.
Nicole Green, a key member of the firm's Executive Team and Finance Manager, is a Finalist for Legal Operations Professional of the Year.
A positive role model for remote working and flexible work practices at Thynne + Macartney, Nicole has worked remotely from Newcastle since 2019 and long before Covid-19 was even a thing.
Across her 10 years in the role Nicole has recognised that financial literacy is a key factor in a lawyer's success, as such has developed and delivers a financial literacy program within the firm that is part of a lawyer's training.
It is great to see Nicole recognised amongst her peers for her leadership and significant contribution at Thynne + Macartney.