The Professional Indemnity team, including Partner David Fisher, Consultant John Moore, Senior Associate Damian Riggall, and Associate Morgan Healey, has been recognised for their expertise as a professional indemnity law firm in Queensland.
John has also been named a Leading Professional Indemnity Lawyer, an honour he has held since 2015.
David, John and the team represent a diverse range of clients, including health practitioners, engineers, architects, solicitors, barristers, residential caretakers, real estate agents and financial advisers.
They have consistently delivered results to clients outside of court and, where necessary, in a variety of complex cases, appeals, high-value claims and litigated cases, working to ensure that clients get the best possible outcome.
Where professional risk needs to be managed – we're with you.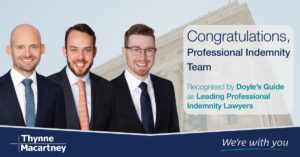 If you have received a notification from the OHO or AHPRA of a complaint made against you, read our useful step by step guide here.

To stay up to date with Thynne + Macartney's Professional Indemnity news and insights, subscribe here.
David is a Partner in the Professional Indemnity group with more than 12 years' experience in the areas of insurance and commercial litigation, with a particular focus on the specialty lines of professional indemnity, directors and officers, and management liability insurance.
The founder of the firm's Professional Indemnity group and now consultant to the firm, John brings to the team over 40 years' experience. With a background in many complex litigated cases, appeals and significant high value multi-party claims and disputes in a variety of jurisdictions in Australia and overseas, John specialises in commercial litigation defending professional negligence and D&O actions against various professional disciplines across small and large claims.
Senior Associate Damian has experience litigating in court, as well as "out of court" alternative dispute resolution, such as mediation. He provides specialist policy advice to professional indemnity underwriters and has acted in employment claims, including claims for unfair dismissal, adverse action remedy, and other workplace disputes, alongside advising and representing professionals in disciplinary actions and matters involving their professional registration.
Morgan assists professionals to respond to claims and complaints made against them across a number of industries. He practices in a wide range of areas, including disciplinary, personal injury, general litigation, employment law and discrimination matters.