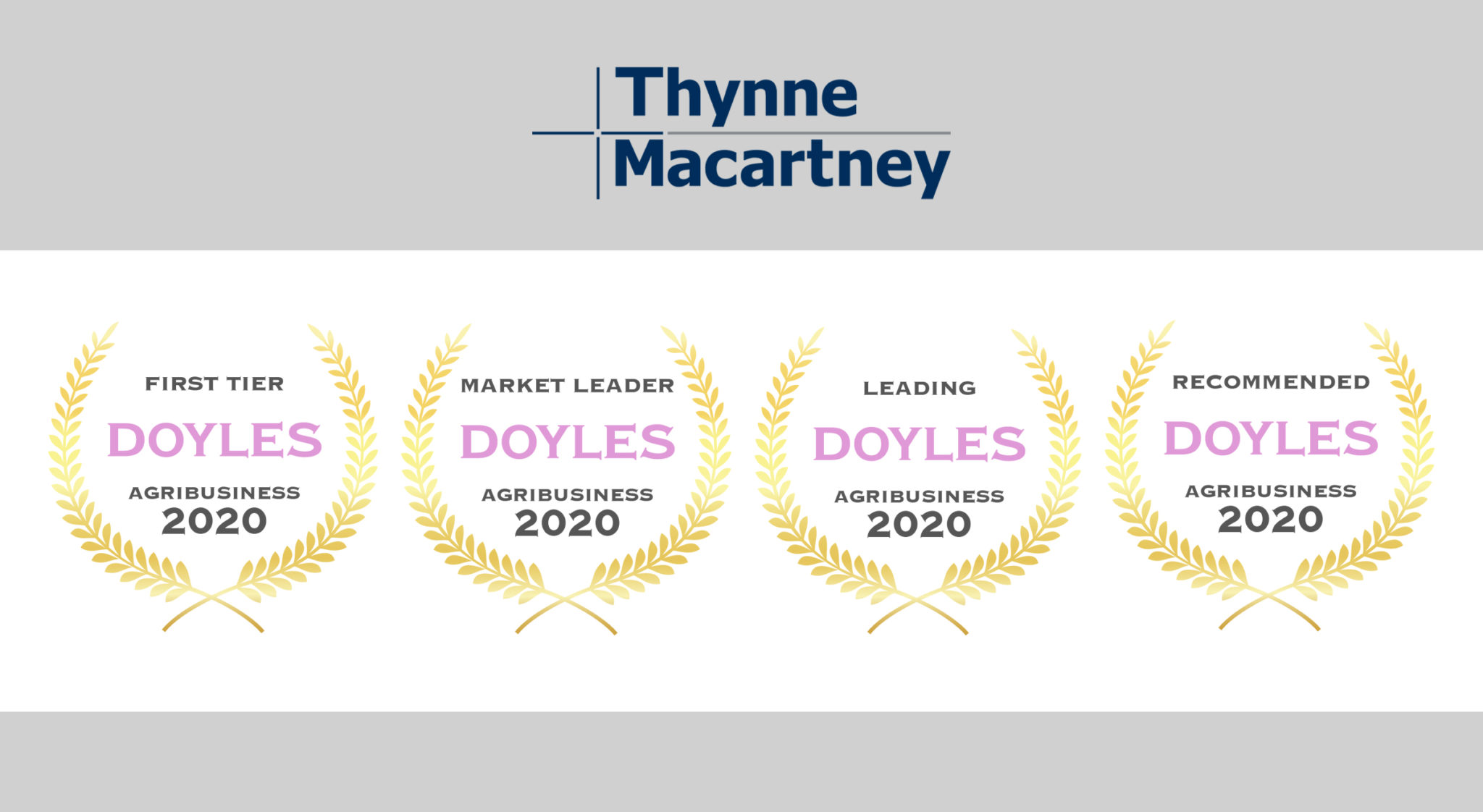 Doyle's Guide for Leading Firms and Lawyers has again recognised Thynne + Macartney as the only Queensland first tier law firm for Agribusiness in 2020, a ranking the firm has held since 2016.
Congratulations to our partners Peter Kenny, Ari McCamley and Alex Ramsey who have been recognised as leading lawyers by the Guide.
Peter has been singled out as Queensland's market leader Agribusiness lawyer, an honour that he has earned over his 40-year career representing the interests of rural Australia.
Thynne + Macartney's Agribusiness practice was established in 2002 when Peter joined the firm with Bill Loughnan to better serve their rural client base. Since then multiple generations of farmers and graziers have drawn on the experience of Peter, Ari, Alex and the team to help them reach robust business agreement promptly – from sales and purchases of rural properties to plans for the future.
---
About Thynne + Macartney's Agribusiness group
With more than 100 years of accumulated experience in working with multiple generations of farmers and graziers in Queensland, the Northern Territory and the border river areas of northern New South Wales, Thynne + Macartney's team of agribusiness specialists knows and understands the rural sector.
We offer a complete range of legal solutions to over 1,200 corporations and families operating in agriculture and service a wide community of farmers, graziers and businesses with rural, residential and commercial property portfolios.
Whether you're growing stock, crops or wealth – we're with you.
About Thynne + Macartney
With a history of 127 years, Thynne + Macartney is a proudly independent, commercially focused, Queensland-based law firm with strong boutique practices in Agribusiness, Maritime & Transport, Property and Insurance.
Proud of our history, excited by our future.
This information is intended to provide a general summary only and should not be relied on as a substitute for legal advice.