There seems to be a common assumption that all 'share fisherman' in Queensland are excluded from the operation of Queensland's workers' compensation scheme provided by WorkCover Qld. Whether a person is excluded from the scheme however depends on the precise basis on which the person is engaged and paid and whether they are a 'worker'.
Queensland's workers' compensation scheme is governed by the Workers' Compensation & Rehabilitation Act 2003 (WCRA) and is administered by WorkCover Qld. A party who employs or contracts a 'worker' in Queensland is required to have workers' compensation insurance with WorkCover Qld to cover any injuries sustained by the worker arising out of their employment.
A 'worker' is entitled to workers' compensation from WorkCover Qld for work-related injuries even if the injury is not caused by any fault on behalf of the employing party. If the employing party fails to have insurance with WorkCover Qld for a worker, the party will be uninsured for any injury claim made by the worker and WorkCover Qld will have the right to recover from the party any claim payments it has to make to the worker (including for medical treatment costs, wage benefits, damages and costs), unpaid premiums and also a fine. Claim payments for injuries can be significant especially if the worker suffers serious or permanent injuries (which we have seen occur on fishing boats).
Who is a worker?
It is not always straightforward to determine whether a person is a 'worker' under the WCRA, which defines a worker to mean a person who:
a. works under a contract; and
b. in relation to the work, is an employee for the purpose of assessment for PAYG withholding under the Taxation Administration Act 1953 (Cwlth), schedule 1, part 2-5.
Whether a person is considered an 'employee' for part (b) above depends on various indicators and multi-factor tests which the courts have considered over time to determine whether a person is an employee or an independent contractor having regard to the practical work arrangement.
The Australian Tax Office provides a useful 'decision tool' on its website to determine whether a person is an employee or contractor for tax and super purposes.
We also highlight there is often a misconception that if a person works under an ABN or calls themselves a contractor the person is not an employee or worker, however, there are many factors involved to determine whether a person is an employee or a contractor and the whole work arrangement needs to be considered.
If the work arrangement is such that the person is determined to be an employee or 'worker' for the purposes of the WCRA, you cannot contract out of the person's entitlement to receive workers' compensation.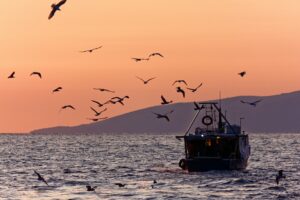 Share fisherman – are they workers?
The WCRA expressly provides that a member of the crew of a fishing ship is not a worker if:
a. the person's entitlement to remuneration is contingent upon the working of the vessel producing gross earnings or profits; and
b. the remuneration is wholly or mainly a share of the gross earnings or profits.
This exclusion is usually interpreted by WorkCover Qld to mean the person must receive a percentage share of the overall earnings of the vessel, that is, of the total catch of the vessel. We are aware that on some vessels crew members receive a percentage share of their individual catch, however such persons are unlikely to satisfy the test for exclusion from the WCRA as the person's earnings are not wholly or mainly a share of the gross earnings or profits of a vessel but rather are a share of their own individual catch or effort.
By way of illustration, WorkCover Qld has published the following examples on its website to highlight scenarios where working arrangements would result in the crew member being considered a "worker" under the WCRA:
A crew member who receives a wage as their main remuneration (for example, an hourly or daily rate).

A crew member who is paid based on the number of fish or product they catch

. This crew member is considered a worker as they are receiving 'piecework' rates (for example, fisherman who are paid a set amount per fish or per kilogram of fish regardless of how much the owner of the boat receives for the whole catch).
A crew member who is taken out on the vessel for a trial in return for food (a 'tucker trip'). The benefit (food) received for performing trial work would mean the crew member is essentially remunerated for the trial work they are undertaking. If you only need to maintain workers' compensation insurance for such an arrangement, a minimum premium policy with WorkCover Qld should at least be in place to cover these workers.
Insurance requirements
It is possible that different insurance arrangements might apply to different crew members working on a vessel. For instance, a skipper who is paid a share of the overall catch of the vessel should not be a worker under the WCRA, whereas a crew member who is paid an hourly or daily rate or who is paid based on the number of fish they catch is likely to be a worker (and therefore WorkCover insurance would be required). The precise payment arrangement for each crew member is therefore critical to determining whether an employing party or vessel operator needs to have insurance with WorkCover Qld for the crew or fisherman working on a vessel.
If employing parties or vessel operators are in any doubt as to whether WorkCover insurance is required for a crew member, they should seek advice from WorkCover Qld based on the specific employment arrangement with the crew member. They should also keep a record of their dealings with WorkCover Qld in case there is an injury claim or any dispute about whether WorkCover insurance is required.
About Maritime and Transport
We are the region's largest and most experienced practice managing all aspects of transactional and contentious shipping, maritime and transport law.
We have accumulated experience and expertise across generations of lawyers in the obscure area of law that is maritime and transport.
Our Maritime + Transport specialists are committed to providing clients with peace of mind and are the go-to advisers for insurers and owners when incidents occur.
We are appointed correspondent for all members of the International Group of Protection and Indemnity Associations, and are also on the panel of various marine and other insurers.
We are a safe pair of hands for our clients providing practical industry knowledge and skilled technical expertise to secure efficient and cost effective solutions.
About Matthew Hockaday
Matthew Hockaday is a partner in the Maritime & Transport and Insurance Groups and has over 20 years experience specialising in insurance advisory and litigation, with a particular focus on transport and maritime related matters.
Clients rely on Matthew for advice on a range of contentious and non-contentious matters, including insurance coverage, personal injury claims, marine insurance, property damage and professional and product liability.
He has significant experience in transport and maritime related matters, including carriage of goods, marine casualties (collisions & groundings etc), pollution incidents, ship repair, workplace health and safety issues, statutory prosecutions and inquests. Matthew regularly presents to marine insurers, vessel operators and crew in relation to marine regulations, managing vessel incidents, injury claims and risk management.
Matthew has led many immediate responses to marine and transport casualties and supervising casualty response teams to help secure the best possible legal and commercial outcomes for his clients. As a result, he is acutely aware of the impact timely and appropriate responses to incidents can have on the end result for his client, as well as the importance of strong media and public relations strategies when dealing with matters under intense public scrutiny.
This information is intended to provide a general summary only and should not be relied on as a substitute for legal advice.
---
About the Author