For the third consecutive year Thynne + Macartney has been named Property Team of the Year and Wellness Initiative of the year finalist at the Lawyers Weekly – Australian Law Awards.
These acknowledgements represent the enormous effort of our Property Team and the whole firm over the past 12 months.
"In what has been an extraordinary year in the property market, we have guided our clients through some of the largest property transactions in Queensland's history," said Agribusiness Partner Ari McCamley.
The Property Team posted its largest year on record for value of property transactions in FY21-22, advising on over $2.2 billion worth of property transactions.
Demonstrating the depth of the property expertise at Thynne + Macartney, that $2.2 billion in value was spread across more than 600 transactions.
These transactions consisted of all types of property – from rural, residential, master planned communities, aged care, commercial, retail, high-rise, industrial and strata title property, as well as property conversions.
The property team at Thynne + Macartney incorporates various practice groups including Property, Agribusiness, Native Title, Banking + Finance, and Business + Corporate. Each group comprises senior partners, mid-level lawyers and junior lawyers that work collaboratively on matters and outcomes for clients.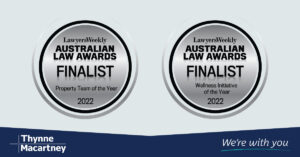 Thynne + Macartney's Employee Wellness Program reinforces our commitment to providing a workplace that supports and empowers our staff to learn, develop and achieve their personal or professional goals while caring for their health and wellbeing.
"The program consists of several events run throughout the year encouraging involvement from all staff to improve awareness of their own health and wellbeing, and generating interaction with staff outside those they directly work with," said General Manager Ashley Lamb, "Thynne + Macartney is a family that we want all staff to feel a part of."
Health + Wellbeing month started the wellness initiative in March and April. The month is a proud tradition put forward by senior management and incorporated 32 daily events including healthy cooking classes, running and walking clubs, yoga and meditation sessions, massage therapy and educational workshops on topics such as financial literacy and budgeting run throughout the workday.
Other initiatives run throughout the year are R U OK? Day, Mental Health Week and Movember, which have seen a enthusiastic response from staff and overwhelmingly positive feedback.
Alongside these initiatives is the firm's Learning + Development program providing inhouse L+D programs designed for our lawyers and staff to continually progress their professional development. This year 57 programs were presented covering a range of topics including mental health and wellbeing, leadership courses, communication skills, contact officer training, workplace behaviours including anti-discrimination, anti-bullying and emotional intelligence and positive mindset training.
Most of our programs are bespoke and are designed by our staff, and they are encouraged to take up the role of presenter.