We are the region's largest and most experienced practice managing all aspects of contentious and non-contentious marine and transport law. We have accumulated experience and expertise across generations of lawyers for over 100 years in the obscure area of law that is shipping and transport. It's why our clients put our skills and experience to work for them.
Our Maritime + Transport specialists are committed to providing clients with peace of mind. That's why we are on call to provide advice and assistance 24 hours a day, 7 days a week. We believe that immediate response is critical to providing our clients with maximum control over the outcome.
We believe in being a safe pair of hands for our clients, freeing them to pursue their interests in other parts of the world. Our clients trust us to manage their issues arising in Northern Australia and the Western Pacific, including in particular Queensland, the Northern Territory, Papua New Guinea and Melanesia, knowing that our combination of practical industry knowledge and skilled technical expertise will secure efficient and cost effective solutions.
Our clients include shipowners and charterers, ship managers and agents, transport companies, repairers and industry professionals. We are an appointed legal correspondent of all members of the International Group of Protection and Indemnity Associations and on the panel of various marine and other insurers. We also act for hull and machinery underwriters and ship repairer's liability insurers. The firm also has equivalent expertise in aviation, road and rail carriage law.
Our team services all Queensland and Northern Territory ports including Darwin, Brisbane, Bundaberg, Gladstone, Port Alma, Hay Point, Dalrymple Bay, Mackay, Bowen, Abbot Point, Townsville and Cairns, and all Papua New Guinea ports including Lae, Rabaul, Port Moresby and outlying ports.
Whatever your destination, we're with you.
Lawyers and P&I correspondents on call to provide advice and assistance

24 hours a day, 7 days a week.
Central email:  transport@thymac.com.au
Michael Fisher, Partner
T: + 61 7 3231 8857
M:  + 61 408 735 653
E:  mfisher@thymac.com.au
Matthew Hockaday, Partner
T: +61 7 3231 8814
M: + 61 422 318 678
E:  mhockaday@thymac.com.au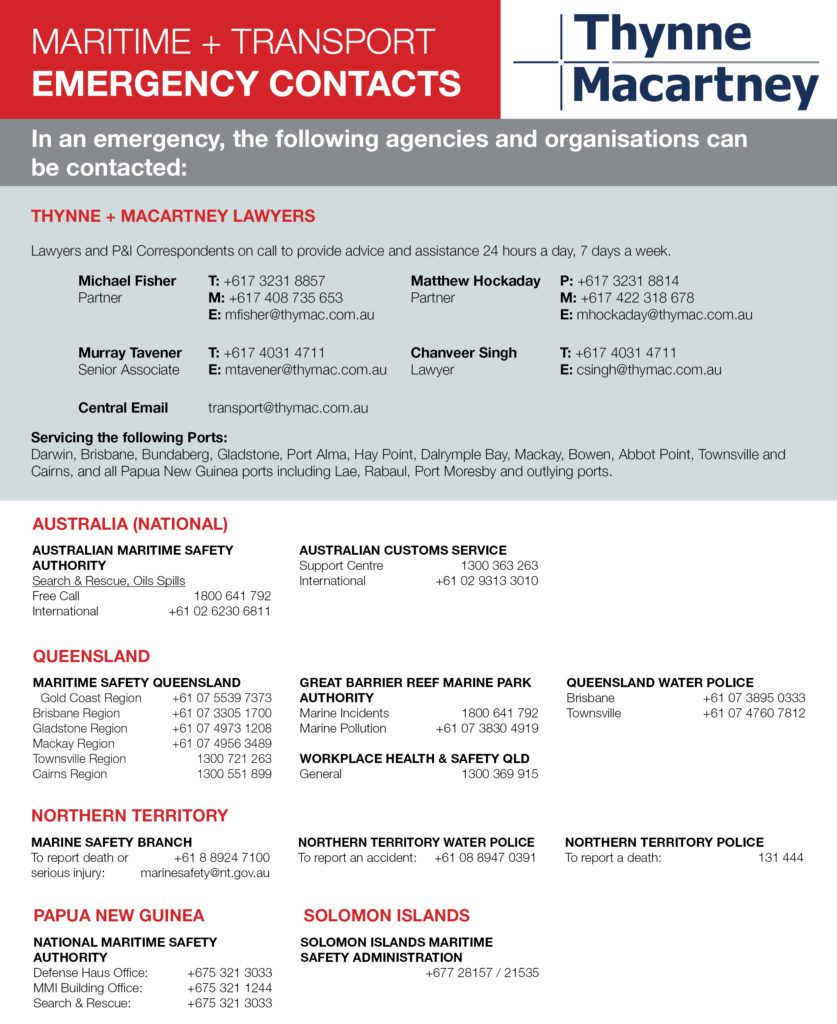 Recognition
Chambers Asia-Pacific
Doyle's Guide (Australia)
Leading Firm in Admiralty, Shipping & Maritime (2011, 2014-2020)
The Legal 500 (Asia-Pacific, Australia)
Transport – Shipping
Transport – Aviation