For the second consecutive year, Thynne + Macartney is a finalist at the Lawyers Weekly 2021 Awards recognising Australia's leaders in the legal industry.
After advising on property transactions exceeding $1.04 billion in value in FY20, Thynne + Macartney has advised on more than 350 property transactions valued at more than $1.19 billion in FY21.
One third of the transactions were for rural properties located across Queensland, New South Wales, Victoria, and the Northern Territory.
"Analysis by Rural Bank1 indicates the value of Australian farmland has increased by 12.9% in 2020," said Ari McCamley, one of Queensland leading Agribusiness lawyers and partner at Thynne + Macartney. "Favourable seasonal conditions, strong commodity prices and low interest rates have combined for perhaps the most active year in the rural property market anybody in our team can recall."
In addition, Thynne + Macartney's team has advised on urban property transactions exceeding $500 million.
The team advises across all types of property including: 

rural
residential
master planned communities
aged care
commercial
retail
high-rise
industrial and strata title property
property conversions.

Aspects of property law include:

acquisition
financing
development
environmental
planning
native title
compulsory acquisition
construction
leasing
sale
property-related disputes.
Congratulations to the 11 Partners who have undertaken these extraordinary property transactions: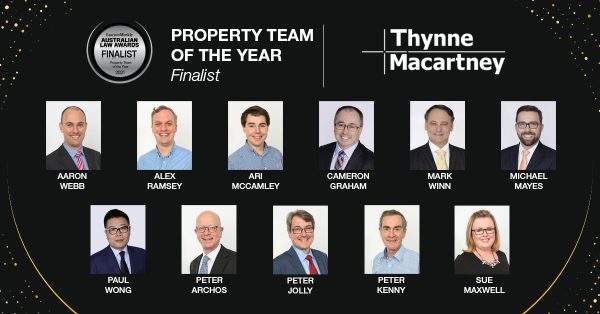 Aaron Webb, Alex Ramsey, Ari McCamley, Cameron Graham, Mark Winn, Michael Mayes
Paul Wong, Peter Archos, Peter Jolly, Peter Kenny, Sue Maxwell
In the 21st year of the Australian Law Awards, winners will be announced on 29 August 2021.
Thynne + Macartney is also a finalist in the categories of Employer of the Year and Wellness Initiative of the Year.
---
1 Australian Farmland Values 2021 by Rural Bank